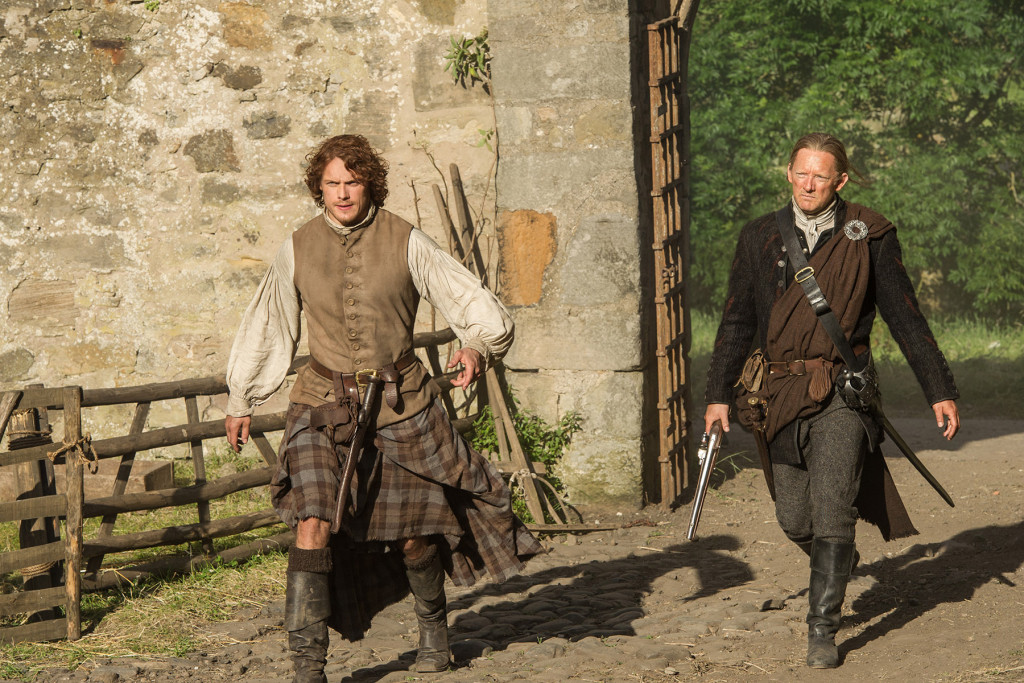 The latest post episode round-up for "The Watch" features interviews with Caitriona Balfe and writer Toni Graphia.
Access Hollywood: 'Outlander': Claire's Next Move After Jamie/The Watch Shocker
Next week's episode of the Starz series ("The Search") will find Claire teaming up with Jenny (Laura Donnelly) to track Jamie (Sam Heughan) down. Caitriona said the scenes will be unique.

"This is — it's a huge shift and the wonderful thing about it is that you see Claire and Jenny get to – it's almost like they go on a female Western. They get to be the rescuers and I love that that's being flipped. … It's really fun, fun stuff," Caitriona said of the scenes involving the two women on a mission to save Jamie, in the Highlands of Scotland. "Laura and I were running around on our horses with our guns. It was just so much fun."
The Hollywood Reporter: 'Outlander' Writer on Jenny's "Intimate" Birthing Scene, How 'The Sopranos' Inspired Jamie's Story
This is an episode that's actually more of a blend of book and non-book happenings.

Yeah, "The Watch" is the perfect example of blending the stories we [create] with what's in the book. I don't think we ever see them in the book, but they're mentioned as this feared, roving presence in the highland. Horrocks as well. So we decided this was an episode made up out of thin air.

Let's switch gears to the pregnancy, because the birthing scene really layered the relationship between Jenny and Claire and bonded them.

In the books they call the midwife and Claire has her Gone With the Wind moment of, "I don't know nothin' about birthin' no babies!" Because she was combat, she fixed up soldiers and wounds. She didn't deal with childbirth. In the book she's a bystander [but] on TV no one wants to see the midwife birth the baby, they want to see Claire and Jenny in this intimate setting.
Vulture: Outlander's Caitriona Balfe on Why Claire Falls in Love With Jamie, and the Emotional Toll of Playing Rape Scenes
It's not all sturm und drang. Without spoiling under what circumstances this happens, you sing in an upcoming episode.

Yeah, they did it to me. [Laughs.] It was really fun, but I haven't seen it, so I don't know how it's going to sound at all, but very early on, we decided that Claire is singing not because she's a fantastic singer, but because she needs something, so it's a necessity rather than an episode of Glee! It's really a fantastic episode, and it's sort of sweet. I was nervous about doing it. Well, actually, I was terrified. Learning the song wasn't as hard as singing in public, but it ended up being a lot of fun.
Source: Access Hollywood, The Hollywood Reporter, Vulture