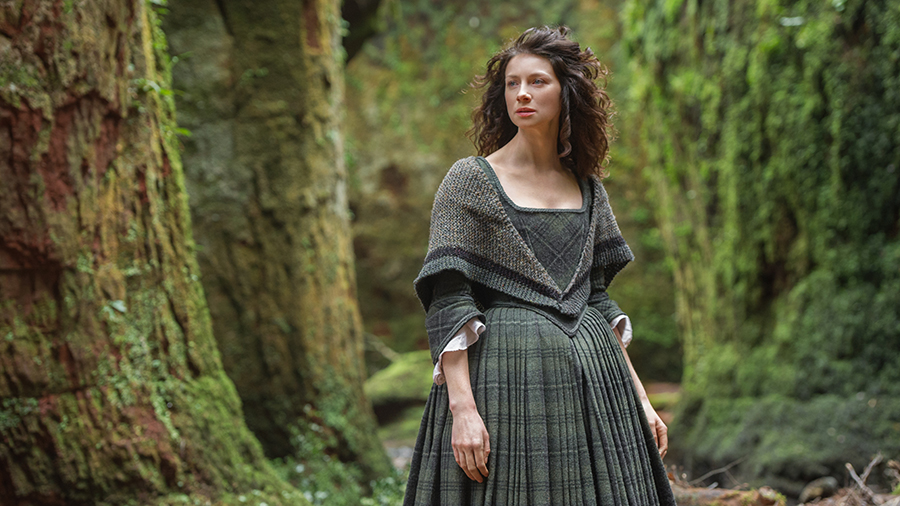 The season finale of Outlander is just a few days away and star Caitriona Balfe recently sat down with the LA Times to reflect on the first season and the character of Claire. Below is a small excerpt of the article, which can be read in its entirety here.
Even in the 20th century, Claire seems ahead of her time.

She doesn't feel like she really belongs in the 1940s or the 1700s, and that's due to Diana, who's an incredible force of nature. Claire was raised by an uncle who was an atheist and an anthropologist, and she traveled the world, and she's always been a timeless or placeless character.

And a fierce one.

That's probably why the books have such a rabid fan base, because you see this woman who can really do anything and is thrown into all of these crazy situations. One thing that I struggled with a little bit, but also loved about her so much, is just her lack of self-pity. She has this mettle where, no matter what kind of trauma befalls her, she gets right back up and meets the next day with the same kind of gumption and ferocity.

The first season took over a year to shoot. What's your favorite part?

I love the location days. If we're outside, even if it's bitterly cold, you feel transported. I never thought of myself doing period. When you're in your acting classes, and you think about the kind of roles you want to play, it's always modern relationship drama type things. But this allows you to transport yourself into a different place. It feels magical.
Source: LA Times