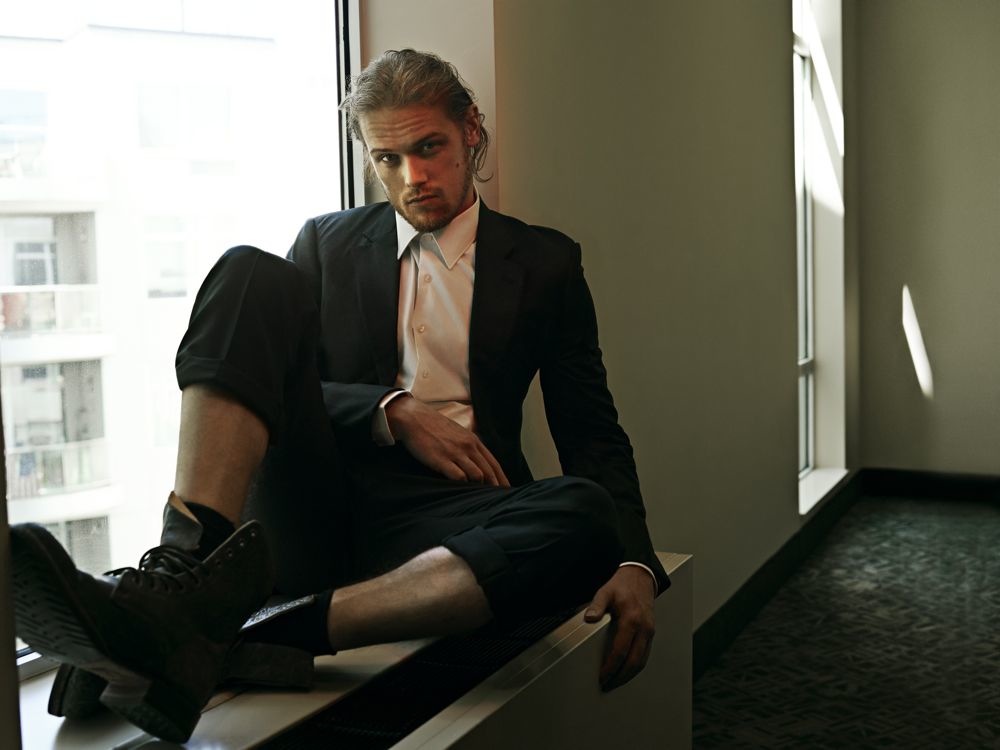 Sam Heughan scored a major feature in the latest Interview magazine.  There are a lot of new artsy photos of him and some new information about the star of Outlander in the interview.  Below are some excerpts, but please head over to Interview for more photos and the rest of the interview.
BROWN: Are you really named after Samwise Gamgee?

HEUGHAN: [laughs] Well, yes. On my birth certificate it's just Sam, but my brother does have a name from TheLord of the Rings. It's Cirdan—he was the shipwright at the end ofLord of the Rings that takes them across to wherever it is they all go when the elves leave the earth. My family were pretty big hippies.

BROWN: You've done a couple of interviews where you've taken people around the Scottish countryside, or done a Scotch tasting to promote the show. How do you feel about that?

HEUGHAN: Those sort of whisky drinking things and talking about Scotland, I love it, and I'm well into it. I certainly don't want the show, or Scotland, to come across as a cliché—there's a lot more to the country than that, and I think our show brings out that. But it's all kind of tongue-in-cheek. Certainly the press is a very different side to acting that I'd never even considered—you never did that in drama school. And I spend more time doing this than I do doing my job, which is really odd. It's an art form as well, I think. I'm constantly learning about how to do press. This morning, I flew in with about four or five hours of sleep and I'm there answering questions in a quick fire round at 10:00 a.m., trying to be witty and funny and you think, "This isn't quite what I had in mind for myself." But it's a necessary part of the job. Should you be so open with the press? Should you maybe be a bit more reserved? You can maybe hide from them a little bit, but you can't be someone else, you have to be yourself. So I try to be.

BROWN: Have people been offering you more roles because of Outlander?

HEUGHAN: It's opened a lot of doors. There's always levels. I've become a bit more commercial, I guess. I just did an independent movie, we managed to get funding pretty much from the back of Outlander. It's a project that I've loved for a couple years, we managed to shoot it in a break—a four-week shoot. I think it's a beautiful little story, completely different from Outlander. I had a lot of meetings recently about other stuff, which is exciting. I've been in the industry long enough now—I've been a working actor since 2002. I'm very aware that at some point, I won't be as successful, so I'm enjoying it. I know that there will be points where it's not going as well, and I'm prepared for that.
Source: Interview Magazine, Photo by Raf Stahelin