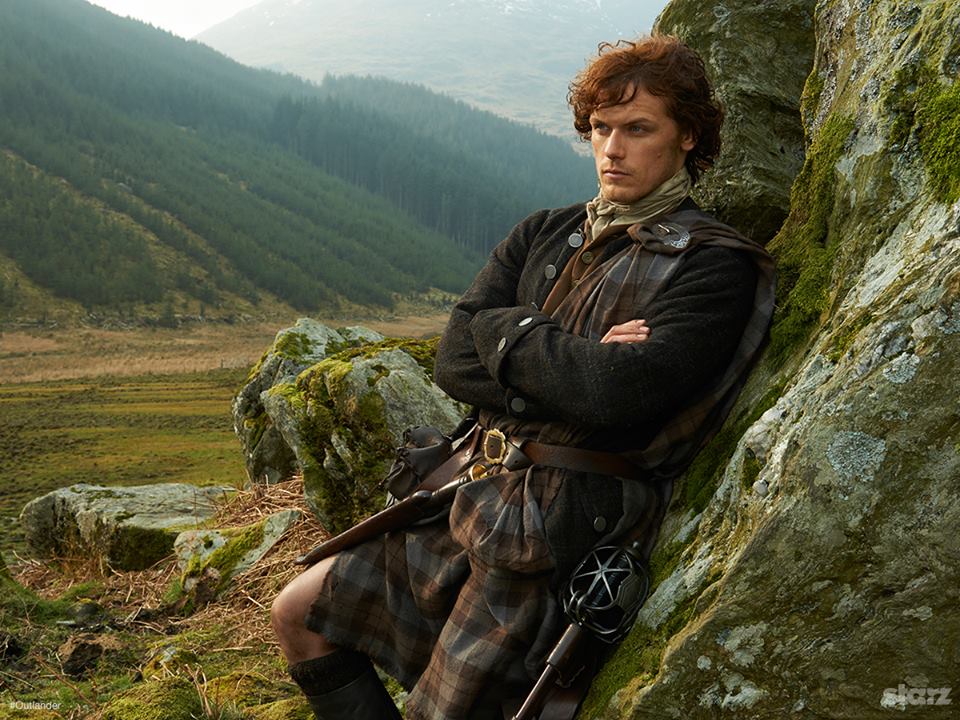 In a new interview with Travel and Leisure, Sam Heughan discusses growing up in Scotland, shooting on location for Outlander, what to expect from the rest of the season, and his own bucket list destinations. Below are a few selections from the interview, which can be read in its entirety here.
You're Scottish. Tell us about home.
I was born in southwest Scotland, in a place called Dumfries and Galloway, which is kind of the bit that sticks out—the bit that no one really goes to. It's a very rural area, but it was a fantastic place to grow up. I lived in sort of old castle grounds and converted stables, which sounds much more glamorous than it actually was, but I had incredible access to the outdoors, which I think is important as a child.

And then you moved to Edinburgh.
Yes, I relocated to the capital city at age 12, which was fantastic. It's such a beautiful city—one of the best in the world, I think. There's so much history. I love walking up Arthur's Seat, which is this very old dormant volcano near Edinburgh Castle. On the other side, there's the Salisbury Crags, which is this series of 150-foot-tall cliffs. If you walk down from there, there's a small village called Duddingston, which is home to the oldest pub in Edinburgh, the Sheep Heid Inn. They've got a bar and restaurant, and a bowling alley in the back with these old wooden pins. It's a fun place to go and drink beer.

What's been your favorite location to film in Scotland?
We filmed a lot of scenes round and about this small village called Kinloch Rannoch. That's where we shoot the standing stones—called Craigh na Dun in the show. At the center is Loch Rannoch (that's Lake Rannoch for non-Gaelic speakers), and at the other end is a mountain called Schiehallion, which they call the mountain of the fairies. It's this beautiful peak that looks quite iconic.

We shot there last year on my birthday, and I was very lucky to have the following day off. Everyone else was filming, but I managed to sneak off and climb up the top of the mountain. The view was just incredible. It was so dramatic; everything was still covered in snow. There's lots of wildlife—pheasants, grouse, wild deer, sometimes you see stags. It's just a very magical place.

What can viewers expect this season?
This second half of the season is a lot darker. The momentum has carried right through. So much happens, even in the first episode. You find out a lot more about Jamie's character—who he is, where he comes from. His relationship is tested a lot with his uncles, and also with Claire. Their relationship is very much challenged throughout the season, but it climaxes in some pretty intense episodes coming up.
Source: Travel and Leisure