**Do NOT read this post if you have not read Dragonfly in Amber or if you want to be surprised about characters in the second season.  Seriously, do NOT read any further if you don't want to be spoiled.**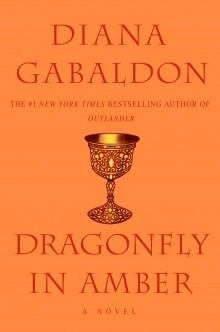 Before I get your hopes up, no, this is not about Roger or Brianna.
Maril Davis announced via Twitter that they have found Bouton, the dog of Mother Hildegarde who runs the hospital Claire volunteers at in Paris.  Bouton is no ordinary dog, but one with special talents.  One of my favorite parts of Dragonfly in Amber is when Jamie meets Bouton at the hospital with Claire listening/watching the exchange.
I don't want to make anyone too excited but we may have found our Bouton! #youaskedforCastingnews! @Outlander_Starz

— Maril Davis (@TallShipProds) April 14, 2015
Update (5/8/2015):  Here is Bouton!
And to thank u for being the best fans EVER here is a casting treat.A picture of #Bouton! #outlander @Outlander_Starz pic.twitter.com/61naBBbVxt

— Maril Davis (@TallShipProds) May 8, 2015
Michael Aussielo at TV Line gives us some insight into the casting process so far.  Here is his "spoiler" for Outlander this week.
"We're not close," series creator Ronald D. Moore says about the process of picking actors to play [Spoiler alert!] Claire's adult daughter and the Rev. Wakefield's grown-up son (briefly glimpsed as a child asking for biscuits earlier this season). We can tell you that the Starz series also is actively casting the part of [No, seriously: Spoiler alert!] Alexander Randall, Black Jack Randall's beloved brother — though star Tobias Menzies tells TVLine he hasn't yet screen-tested with anyone in the role. "It's the one human relationship he has in his life," the actor adds, "so yeah, that could be very fruitful."
So at this point, or at least when Ausiello spoke to Ronald D. Moore, they are not close to casting Roger and Brianna.  We also know that Tobias Menzies will not be playing Alexander Randall, but I assume they will find someone who has the acting chops and looks somewhat similar to Menzies.  I wonder if they will be using any CGI on this actor's face or possibly some prosthetics.
Source: TV Line, Maril Davis