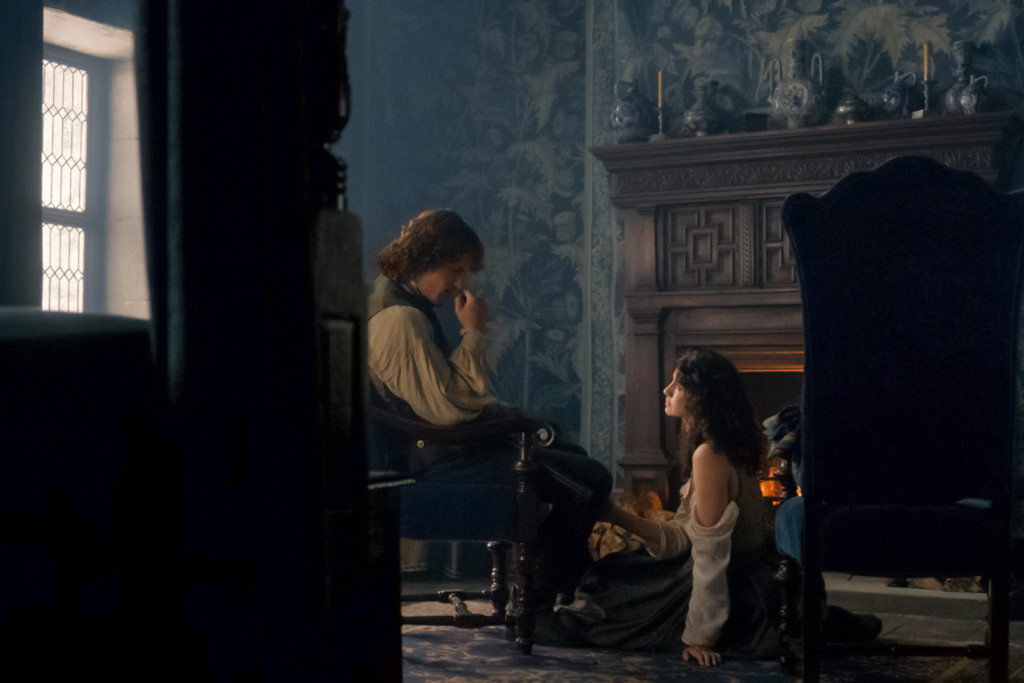 Below are the interviews with the cast and crew that discuss Episode 112, "Lallybroch."  Featured in the interviews are Tobias Menzies, Caitriona Balfe, Sam Heughan, Laura Donnelly, Anne Kenney, Terry Dresbach, and Jon Gary Steele.
Updated (4/27/2015) – more articles/interviews added
Terry Dresbach's Blog: The Laird and his Lady Return Home, Ep.12
Jamie in trews. I think I have received more comments about this than any other costume. No maybe it is neck and back with why the wedding gown is so low cut. But people want to know why Jamie is in trews.

It is not the first time he has worn them, but it does have significance in this episode. He did throw his cloak around Claire after the trial, but he couldn't have known he was going to need to do that. The trews are there because we needed to do some character development. Jamie has had essentially the same costume throughout most of the series. Now we are seeing a different side of him. He is now a married man, and as we find out, a man of substance. A Laird.
Wall Street Journal: Meet 'Jenny From the Broch': 'Outlander' Actress Laura Donnelly on Playing Jamie's Feisty Sister
Jenny is very protective of Jamie – what is it that she fears the most about Claire?

I would say that she's worried that Claire may be a usurper. That she is coming to Lallybroch with a naiveté about how these things are run, and that she's really going to mess that job up. And also, there's the knowledge that she's English and, with those old rivalries, it's in her blood to distrust the English. So it takes her a little while to come around – and I also don't think she really trusts her brother's judgment very much, with fairly good cause. He's not had a history of making all the right choices [laughs]. She's just being the protective older sister. And, she comes around, not very quickly, but soon enough.

Because Jenny has been running for Lallybroch for four years, and because she's such a strong character, what should Claire try to learn from her?  

Well, I think that Claire learns that she's not the only woman that's able to stand up to Jamie, and I think that's really good for Claire, to see somebody else that can take on that role, and to see another female that he listens to. That gives Claire a bit more confidence. And then she also just has to go about learning how to be the lady of an estate. There are the practical things that she learns – the day-to-day running of the household, sewing, mending, washing, cooking, all that stuff. And then she and Jenny also have a bond over the fact that when we first meet Jenny, she's very heavily pregnant. And as the series goes on then obviously she goes into labor and Claire is able to be there to help. She learns a lot about her womanhood, I guess, at that time. So they're able to bond over that. She learns quite a lot from Jenny over that.
Variety: 'Outlander' Postmortem: The Past Catches Up to Jamie at Lallybroch
"He had a lot of guilt, he felt responsible for what had happened for her — he didn't know what had happened to her," Heughan said of their strained encounter, conceding that coming home turns Jamie into "a little bit of a brat. He's a guy that needs to grow up and I think that's really important — he isn't the king of men, he has pride and stubbornness and things he has to get over, and ultimately, he has these relationships that he hasn't dealt with. Being with Claire forces him to do that, being back home forces him to do that — it makes him the man he is, and these are all character building to what he then becomes in season two, three, four…"

Balfe admitted that Claire "had a lot of trepidation about going to Lallybroch, because as much as she is so in love with Jamie and ready to build a life with him, she's never really been the 'at home lady' who's going to just serve her man, and also because he's so unsure about his place. They come in and Jamie reverts back to being the age that he was right before he left, and it's hard for her to see this man who she loves so much go through some growing pains, but she understands that this is a process that he has to go through, and as a good partner you have to help them through it."
THR: 'Outlander' Writer on Introducing Jamie's Sister and "Intense" Black Jack Scene (Interview with writer Anne Kenney)
This episode answered a lot of questions the audience had regarding Jamie leaving Lallybroch and staying away. It's a nice complement to Claire's (Caitriona Balfe) own honesty last week.

It's interesting because we started out thinking there'd be a lot more about Jamie and his father in the episode. In the first draft there was a whole thing in the beginning with a flashback to Jamie and Ian as boys with his father. But it became something different even though his father is in it. It evolved and evolved.

You see that when Jenny reveals what happened between her and Black Jack. It's intense but also subversive in a lot of ways.

A lot of the stuff that's so creepy with Tobias, where he was touching her mouth and all that stuff, wasn't scripted. They just did that on the day. It's very intense, but you need to know what happened to her and it gives you another picture of Black Jack. But we were a little concerned about that scene because we wanted to make sure at the end that you believed he had not done anything, that he did not rape her but left her alone. A lot of that happened on the set in the moment, and it is a really intense scene. I'm curious by what you mean by subversive though. In what way do you think it's subversive?

A lot of times you see women in these situations where it's immediately victimizing. But here Jenny laughs and — to a certain extent — it empowers her.

I agree completely. Because that is the kind of person that Jenny is and I love that she said, "I don't know why I did it, I just did."
Access Hollywood: Laura Donnelly On Taking On 'Outlander's' Feisty Jenny Fraser
"I always look to play flawed characters. I'm not very interested in playing somebody that's just, you know, the very nice one or the attractive one, or whatever, which a lot of female parts can just be written that way. And with Jenny, she fights very hard for what she believes in and for what she loves and sometimes she goes about it the wrong way and other times, she doesn't and she's very, very right," Laura said. "And I like that those things come from the same place, which is just a sense that she really knows herself and that she is very headstrong. … It's fun to play somebody that just goes kind of hell-for-leather for one direction, whether she's right or wrong, and she'll later find out which of those it is."
Access Hollywood: 'Outlander' Postmortem: Laura Donnelly & Tobias Menzies Discuss 'Lallybroch' Episode
"We had a lot of rehearsal, and there was a closed set and really, the thing that makes that kind of scene is the attitude that surrounds it from everybody that's involved and it was dealt with really sensitively," Laura, who plays Jenny, told Access Hollywood. "Everybody wanted to make sure that there was just enough of it shown on screen that did the story justice, but that nothing was gratuitous and too over the top, and so we did a lot of rehearsal to make sure that it was very finally tuned.
"With scenes like that, it's not the kind of thing that you can just go and improvise, for many different reasons, one in particular being safety. There's violence in that scene and you have to make sure that you get that right and we had a wonderful director who wanted to make sure that the stories of the characters were told very clearly at the same time," she continued. "So while it was tough in the way that doing anything like that is, because you put yourself somewhere both physically and emotionally quite vulnerable, at the same time, it felt necessary and it felt like it was being handled really well and really sensitively and so I was comfortable."

As Tobias was filming the first season of the show, beyond his contact with the show's writers, he was able to reach out to the woman who created his 18th century character, author Diana Gabaldon, who is a consultant on the Starz series.

"We email back and forth. She was really helpful," he said.

"I was sort of just thinking about the character and thinking about different sort of underpinnings really," he added of what he discussed with the author. "She was very forthcoming in email and stuff."

Being able to have a back and forth conversation with the author was a fresh experience.

"It's relatively unusual to have someone who's written the books as involved as she is and on the end of an email address. So yeah, it's a privilege to have her involved," he added.
Access Hollywood: 'OUTLANDER': SAM HEUGHAN ON 'LALLYBROCH' EPISODE
Access Hollywood: 'Outlander': Caitriona Balfe Talks Claire/Ian (Steven Cree) Scene
Vulture: Outlander's Laura Donnelly on Saturday Night's Attempted-Rape Scene and What It's Like to Play a Pregnant Woman
One of the things that happens in this episode is we get the story about what happened between Black Jack Randall and Jenny, the attempted rape, which must have been pretty harrowing to shoot.
Well, we shot the previous flashback at the time when episode one and two was being shot, but shooting both of them were quite difficult. It's never an easy day on set to do something like that. It's certainly as tough for Tobias [Menzies] as it was for me, because he doesn't enjoy being violent. We had a closed set that day, and our director was fantastic. It had to be very clearly choreographed, in a very safe way, so we had a lot of rehearsal and a lot of time to discuss it. And then you form trust, and you just go for it. And you try to tell the story as best as you can.

What's it like playing pregnant, then? Especially in period costume?
Physically, pretty uncomfortable! There's this heavy, very warm baby bump, and then a corset over the top, which is very restrictive, and all sorts of under skirts and outer skirts, and very heavy outer clothes. I think it's great for the character, because it tires me more easily. It's very cumbersome. Obviously, you see pregnant women, and they're just getting on with it all the time. It's not like it's something that I had to think about at every moment of playing Jenny, because pregnant women don't go around thinking about it every moment of their day. But the costume really helped.
Yahoo!: 'Outlander' Postmortem: A Look At Bringing Lallybroch To Life (Jon Gary Steele Interview)
Given the importance Lallybroch plays in the plot and character development — and that executive producer Ronald D. Moore is a "stickler" for an era-appropriate look — production designer Jon Gary Steele was not immune to pressure either when the Outlander team began the search in June 2013 for a 1700s structure in Scotland that could stand in for it.

"And don't forget about the fans that have read the book 20,000 times [who have] their own opinions in their minds about what it should look like," Steele tells Yahoo TV. "We wanted to find something that was period correct and that would be reminiscent [of what was in the books]. As soon as they saw it, they would go, 'Oh, that's it.' It was not an easy task. First, there aren't that many buildings left that aren't on the National Historic Register. Those are the most well-preserved, but they are also really, really strict about what you can and can't do during filming. Like you can't have real flames, which I understand, but it makes shooting more difficult. The hardest part is finding something that was 18th century or older but not covered with modern details like additions or paved driveways. We'd see great places, but they were right next to something that's horrible like a road. Also, a lot of buildings in that period are white-washed, and I didn't like that look for the screen."

When pressed to pick his favorite design detail, he admits, without hesitation, it's the wraparound staircase. "I spent a lot of money on the staircase wrapped around an open, four-sided fireplace. The construction coordinator hated me for that," he says. "We're always arguing. Why do I want them to be able to shoot from any angle and still see flames and people going up? I was trying to give as much depth to the space and give the director something to shoot through. You're always arguing with the construction, like, 'Why do you always have a second story? Why do we have to have columns?' But who wants to just shoot in a square room?"
TV Line: Outlander Stars Talk Fraser Sibling Rivalry, 'Harrowing' Prep for Next Ep
Sam Heughan, who plays the man in question, tells TVLine his long history with Laura Donnelly — they attended the Royal Conservatoire of Scotland together "and we were working together in Norway on a film when I got cast in Outlander" — gives Jamie and Jenny's relationship its feeling of flinty familiarity.

"We just wanted to make sure that they are similar in their stubbornness and in their blockheadedness, and she's such a great actress that she gives as good as she gets," he says. "Those scenes where they really go at it, it's really important."

Plus, Balfe adds, it's not as if Jenny's irritation is without cause. Claire and Jamie's abrupt and unannounced arrival at his family's home "changes a lot" for his older sister, who's been running the place in his absence. "It's hard for her to accept that. Plus," Balfe says, laughing, "she's nine months pregnant, so anyone would probably be a little grumpy."
Nerdist: OUTLANDER'S SAM HEUGHAN AND TOBIAS MENZIES ON THAT BLACK JACK RANDALL REVEAL
Nerdist: What do you think about the darker doings we're dealing with when it comes to Black Jack this second half?

Tobias Menzies: On an essential level it's very enjoyable stuff to play because it's rich and exciting; it gives you a lot of rope to work with in a way. He's a really great and interesting and complicated character as baddies often are. We watch drama and we watch stories to live vicariously and see people do the things we're not allowed to do and Jack is definitely in that honorable tradition. He says the things we wouldn't dare to say. Obviously he goes a lot further into much darker waters [this half], but I think we've always had the tradition of dark fairytales, from childhood onward, and I think humans are always drawn to dark stories. It's sort parable really, isn't it? It's a way of dealing with this sort of thing without having to experience it in our own lives.

N: What did you think about the scene with Jenny?

TM: Obviously one of the main, terminal things was the issue that he wasn't able to get it up and she laughs at him and getting the picture of that right. I didn't want it to be about the homosexuality or about the fact that he was only turned on by men, I wanted it to be something about the fact that it was almost a schoolground humiliation. That she sort of plugged into something ancient in him and it's a sort of, the odder the better, really. It needed to be that he really wasn't, necessarily, unmanned or weakened by it — it was just that he almost failed but it still had a danger in it; we didn't want to diminished Jack too much in terms of what he represents for everyone. I think it turns out [laughs] relatively creepy.
Zap2It: 'Outlander's' naked Black Jack: Tobias Menzies confirms, 'It's all me'
There is a video in the post, interview with Tobias.
As for that nude moment where audiences get to see Black Jack's penis, the actor confirms, "I'm afraid it's all me.

"You just have to sort of hold your breath and do it, but I suppose in a way I was as much involved in the decision to make it as graphic as that," he says. "I think it needs to have genuine humiliation in it. We see Jack so often in control. To have a moment when a young girl's laugh undoes him I think is really interesting."
All sources are linked in each article's title.