Entertainment Weekly interviewed Outlander production designer Jon Gary Steele on his work with the Fraser estate of Lallybroch.  The interview is in gallery style.  Below are some excerpts from the interview, along with some new photos that are used in the gallery.
One discrepancy I noted from the interview is Steele or EW saying that they renovated a room at the estate that stood in for Lallybroch for some of the interior scenes.  Ronald D. Moore has said in another interview that the interior was so bad and unusable that they shot all the interiors in the studio. I tweeted at Steele to see if there was a correct answer, or was it possibly both.
Update: Thanks to Gary for clearing things up!
@OutlanderTVNews ,That was a miss quote, all Lallybrock interiors were on stage in Scotland. Thank you.

— JON GARY STEELE (@jongarysteele) April 30, 2015
Steele began scouting for Lallybroch locations nearly two years ago. "From day one, it was in our minds," he recalls. He eventually settled on a rundown property located in Hopetoun, near the Scottish capital city of Edinburgh. "It was a much smaller scale than Castle Leoch, because that's a real castle with surrounding walls and overlooks," he says of the structure, which dates back to the 15th century. "Lallybroch is much more of a home farm, and I think the location helped tell that story."

In Jamie's absence, his sister Jenny has taken on the responsibility of running Lallybroch. To portray her feminine touch, Steele's team adorned the set with rosebushes and assorted plants. "Everything looks more colorful than in the scenes when Jamie had been beaten," says Steele. "We wanted people to feel that she had taken care of things while he was gone."

Family homes are typically filled with knick-knacks, and Lallybroch is no exception. Numerous mementos and decorations were used throughout the country manor, including the tapestry seen here. "We found images from the period, got permission from some museum and paid to get the rights to reproduce them and blow them up," says Steele of producing the oversized period piece. "It worked out great, so we'll be doing more of that for Paris."

To create a "warm and homey" look for the couple's master bedroom, Steele decorated a wall with this woven blue tapestry. "I actually think it makes the room seem kind of romantic," he says—which is in keeping with the series' romantic storyline. Says Steele: "Jamie has always dreamt of going back to Lallybroch, and when he falls in love with Claire, he wants her to think of it as her home too."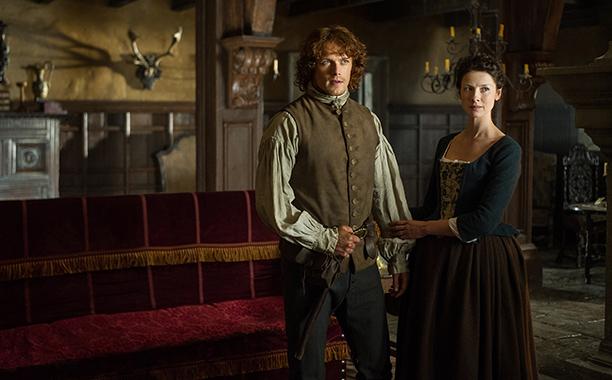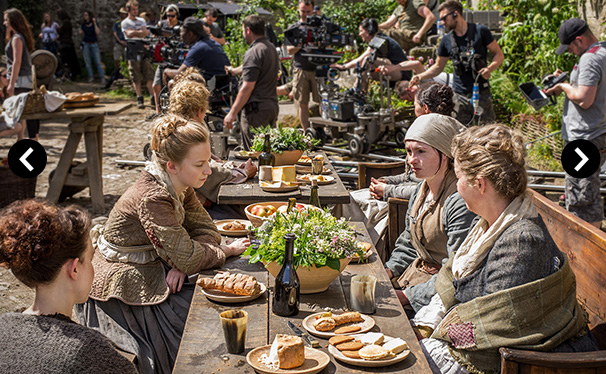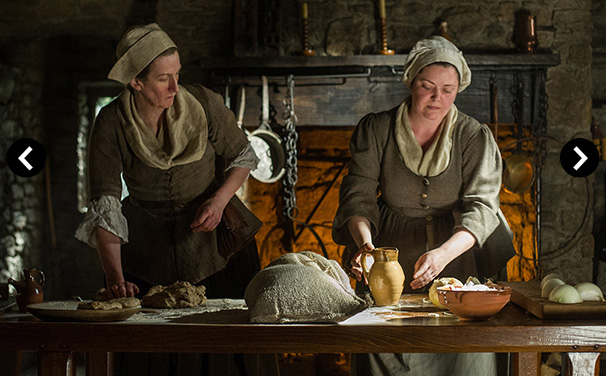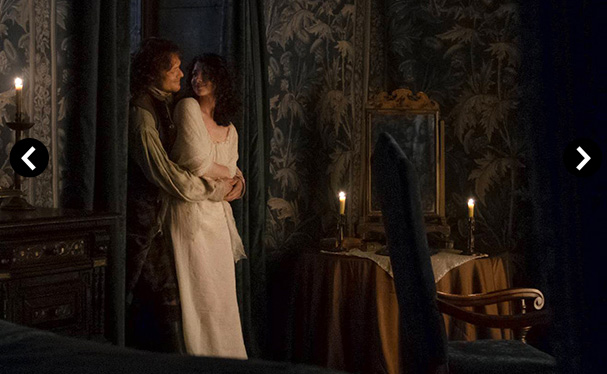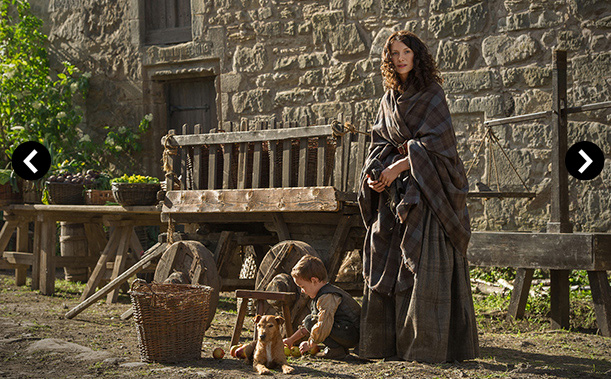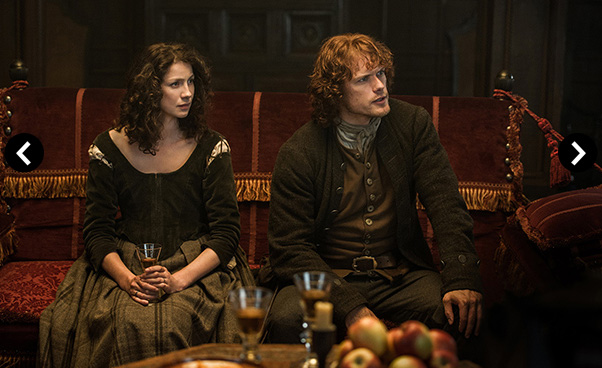 Source: EW