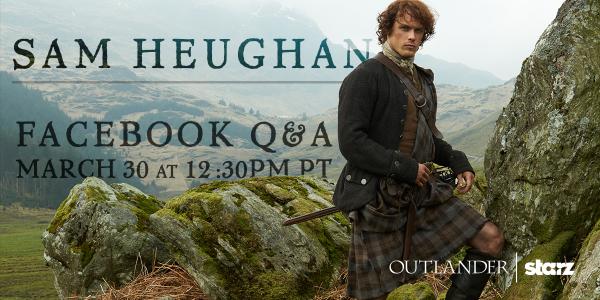 Outlander star Sam Heughan participated in a Facebook Q&A this afternoon, answering a variety of questions from fans about Jamie, season two, and even a few marriage proposals. Although the questions/answers do not go into great detail, there is a bit of discussion about Dragonfly in Amber/season two. These questions have been moved to their own section for those who wish to avoid spoilers. Check out the entire Q&A below and the original Facebook post here.
Join @SamHeughan for a LIVE Facebook Q&A, starting NOW: http://t.co/de5g1W0YH6 #Outlander pic.twitter.com/xiAGPr2OwH

— Outlander (@Outlander_Starz) March 30, 2015
Outlander Questions
Hi Sam, how did you mentally prepare for the Wentworth scenes?
Great writing and challenging stuff, hope you "enjoy"…
Hey Sam! Can you pass along a suggestion to the Starz team? Forget the opening credits; how about every episode opens with Jamie kilting up, as in The Reckoning?? Just sayin…
haha will do…. – Sam
Admit it, you were the mystery Highlander from episode 1.
You'll have to read the latest book! – Sam
Hi Sam! What has been the most challenging scene to film for the upcoming episodes? And thanks for being with us today!
You'll see in the last few episodes.. -Sam
Although you are a perfect Jamie Fraser, which Outlander character would you most like to perform if you didn't have the role of Jamie Fraser? And why? Thanks for sharing your talent.
Black Jack. What a great character.. Dark.. – Sam
Hi Sam! While you and Caitrona were shooting hot scenes have you ever felt really excited? Have you ever tried to flirt with she?
It's all there on screen… – Sam
Sam, where in Scotland is your favourite place to visit?
Isle of Skye, as in opening music. – Sam
This photo came out a few days ago on Twitter, nearly killed our curiosity about what's under the kilt Jamie. Does this picture is a scene in Lallybroch … *(The referenced photo is not an official one, so it is not included here. Although, you probably know the one in question)*
Watch and find out…
Sam, do you sometimes feel it is hard to live up to the role of Jamie and do you feel you are ready for the instant fame you are about to embark on?
What a great character. Yes, I'm not Jamie.
What was it about the part of Jamie Fraser that made you want to audition for the part? If you hadn't gotten the part of Jamie, would you have tried for one of the other highlanders? Or even one of the red-coats?
Would love to play a redcoat. Great costume
Why did they change Jamie's Fraser Tartan? I was skeptical that anyone could pull off Jamie onscreen, but you have managed it.
Jamie changes his Mackenzie tartan (whilst in hiding) to his Fraser family tartan.
Can't wait to see you at the NYC premier. Thanks for bringing our beloved Jamie to life. Great job to the entire cast!!?
See you there!
Outlander Questions continued- Dragonfly in Amber/Season Two & beyond
Hi Sam! Have you done any screen tests with possible Brees or Rogers?
Not yet but do know a few actors who are auditioning! Exciting times!
Sam, first of all I you and your portrayal of Jamie. I am looking forward to Season 2.
Do you speak French or are you having to learn it for Dragonfly in Amber? Es to prest?
I failed my french exam! Yes, in lessons as we speak.. – Sam
Have you read book 2 (Dragonfly in Amber) yet?
Better question would be how MANY times?! Yes! – Sam
did you, or any of the cast members, have any costume/wardrobe challenges for the upcoming series?
Parisien Court will be fabulous, Terry is a genius so I imagine the costumes will be terrific. – Sam
So Outlander will make it to the storyline in America? If that is correct, will filming be in U.S.?
Let's hope so!
Other Questions
WILL YOU MARRY ME!!??? (p.s. don't tell my husband…)
Or his wife?
He's not married LOL
Not yet…
I think that's what we ALL want to ask him! hahaha!
YES to all – Sam
Boxers or briefs?
Neither. – Sam
What is the one question you inwardly cringe at when asked over and over?
I bet it's "what do you wear under the kilt?"
Roger says he heard it all the time. didn't like it
Exactly… Leave it to the imagination..? -Sam
What are you looking forward to most in filming season 2? (and thank you for the pub recommendation in Glasgow last November – had a great time on Ashton Lane! x)
Love pubs on Ashton Lane! – Sam
How do you feel about the gross comments you constantly end up with? A.k.a. the really graphic inappropriate ones from older women who should know better :s
Diana knows EXACTLY what shes saying. I love it. – Sam
Oh no, not Diana! I mean from fans! Sorry, should have specified! As a young rider she's a huge inspiration for me
Hello from Indiana! Where do YOU call home Mr. Heughan?
Scotland beginning to feel alot like home – Sam
What's your middle name? You told that's bad, but you haven't told what is it! May I ask?
Named after a famous 1980's puppet rat….??? – Sam
Sam, are you planning any more charitable events involving endurance activities!! I am doing my first Ironman and would love to raise money to donate in your charities name!
Watch this space, several in the pipeline – Sam
Wondering about the scar on right cheekbone . . . sword fighting?
Chopping wood… – Sam
Hello Sam, Who was your favorite actor while you were growing up.
Alot of Theatre actors in Edinburgh. Inspired me to work on stage. – Sam
Hi Sam…… Since you've already been Batman and worked with Roger Moore, would you ever like to play James Bond???
Next James Bond should be a Scot…! – Sam
You have been traveling so much. Do you like to fly? Have you thought about borrowing the #BatPlane?
Airmiles are adding up. I love to travel. – Sam
Can I scratch your scruff?
Long as I can stroke your scruff – Sam
Coffee or tea?
Coffee!!!!! – Sam
Hey Sam – have you 'bagged' any 14ers during your time off?
I'm hoping to travel to Denver and bag at least one… – Sam
was a trauma to cut across that beautiful beard?
P.S I love Sam bearded
Me too! Beards rock
Are you single?
Maybe…
Sam, I am old enough to be your mum but my heart speeds up when I watch you. Great job filling Jamie's big shoes!
Mm thank you!
Hi Sam. What is your favorite Whisky?
Tasted 4 this morning before 10.30am… ALL of them!
Hi Sam
What is your favorite thing about Los Angeles? Or do you cook? And if so what is your speciality dish?
Love LA brunch (eggs and coffee and juice!) food heaven
Closing message from Sam Heughan:
Hey guys, thanks for all the questions!! Wow, sorry didn't have time to answer more. (Whisky this morning certainly helped) Thank you all and enjoy second half of season!x
Source: Facebook