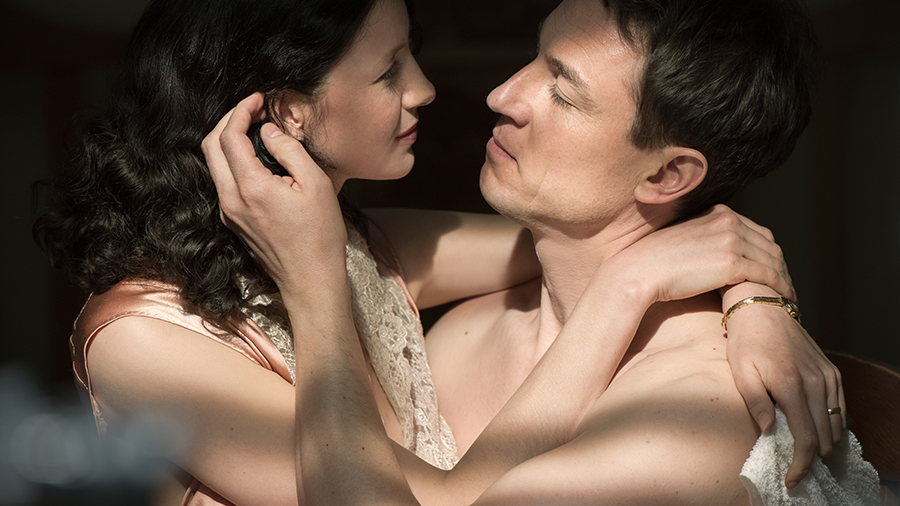 In another intriguing and quite good piece by The Guardian, Ronald D. Moore, Caitriona Balfe, and Tobias Menzies discuss their roles in the world of Outlander. There are some really great and orginal quotes from all of them.  Here are some excerpts, but head over The Guardian to read the entire article.
"I'd say she's got gumption," says Balfe, when asked what qualities mark out Claire as such a singular heroine. "There's a misconception that women were much weaker in those times but when you get down to it, even if they weren't out fighting on the battlefield, they were definitely running the show behind the scenes – and I think that's true to this day. Women provide the strength at the core of family units, and in most endeavours you'll find a strong woman in there somewhere."

"There are some piquant, slightly chilling moments of seeing flashes of Frank in Jack and vice versa," he says. "We're having some fun with this unusual situation of them both having the same face."

"With Jamie, this young man's body stands for all that is good and honourable about Scotland," says Menzies. "Jack's central drive is to colonise, so when he encounters a body that is able to endure more pain than he has ever administered before, it's the perfect foil for his particular proclivities. At times you could say it tips over into eroticism. Jack is a study in sadism."

"I think Game Of Thrones certainly helped open the door for us but our worlds are really very different," says Balfe. "It exists in a fantasy world while Outlander is more of a historical drama."

"My marching orders for the cast and director of that episode were: 'Let's make it truthful,'" adds Moore. "None of us actually have TV sex, it never looks like that. So it's not about titillating the audience or seeing how much flesh we can get away with showing; it's about continuing the story of the characters."
Ron Moore also says at the end that Bonnie Prince Charlie has not been cast yet.
Source: The Guardian