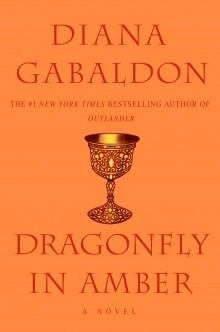 *Spoiler Alert: If you have not read Dragonfly in Amber, do not read this post.*
In the first article to come out of the winter TCA tour, Ronald D. Moore spoke to Zap2It about the second season of Outlander, which is based of Diana Gabaldon's Dragonfly in Amber.  Below are some quotes from the article, but please read the whole article over at Zap2It.
Asked if he plans are to follow the structure of "Dragonfly in Amber" as he has with "Outlander," Moore replies, "To an extent. We are playing around with the structure of it, the surprise of it. And we have some ideas for some twists that we think would surprise even the readers of the books."

"It is interesting, when you open the second book, and you're like, 'Wait a minute, did I miss something?'" Moore says. "Which is great on one level, because any time you can surprise an audience, that's gold. They get used to knowing what's going to happen next. So, I want to preserve that, but I think there's way to tinker with it, and play around with it so it's not quite as jarring, so you don't feel like you've clicked into the wrong show."
They have begun casting Roger and Brianna, as we have already heard before.
As for the look of Brianna, and trying to match an actress to Balfe, Moore says they want someone who looks close to Sam Heughan and Balfe, "as much as they can," but that embodying the character is more important. "You can't get too tied into [appearance] as an idea. You don't want her to look so radically different that there's no way, but it has to be within the bounds," he says. "You're looking for a good actress because she's so important going forward.

"But yes, ideally, you want her to be tall, you want to see Jamie and Claire in her, but that's a lower priority for me than that she feels like Brianna."
I have a feeling that some fans are not going to be happy with possible changes in the book to screen adaptation, and also possibly that the height issue with Brianna may not be met.  From what I have seen, the production has done wonderfully with casting and with any changes to the book for season one. I think our motto should be "Trust in Ron."