The Outlander's score by composer Bear McCreary will be available for purchase early 2015 according to Amazon.  The pre-order page says that it will be released February 10, 2015.  No other details or images are provided.  If we find out any other details, we will update this post.
We posted on social media yesterday that the 2016 Outlander wall calendar is available for pre-order as well.  It will be released in August per Amazon.  No images are available of the calendar.
Update (1/4/2015):  The pre-order page has been pulled from Amazon, but we will let you know when and if it goes back up.
Update (1/12/2015): The official press release just came out.  This will be a volume one soundtrack. It is not available for pre-order on Amazon as of yet.  Please see the press release for all the details:
"Composer McCreary has been fascinated with the folk music of Jacobean Scotland from an early age. "When I first learned to drive, I was blasting bagpipes from my car speakers," he jokes. His fascination quickly became a passion: "toward the end of high school, I began researching folk songs of the Jacobite uprising. I was awestruck by their ability to communicate tales of tragedy and triumph through lyrics with double meaning, woven along deceptively simple melodic lines and evocative harmonic progressions," McCreary notes. OUTLANDER Executive Producer Ronald D. Moore, who had also collaborated with McCreary on BATTLESTAR GALACTICA, knew of McCreary's passion for the period's music, and turned to him for the series, so much of which is set in the era.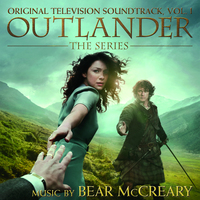 McCreary was ecstatic about the chance to head to the Highlands for musical inspiration. "From the beginning, I wanted to draw predominantly from Scottish instrumentation and folk music," he explains. "Instruments such as the fiddle, bagpipes, accordion, penny whistle and bodhrán (a type of frame drum) form the backbone of the score, supported by orchestral strings, haunting vocals and larger percussion."
"OUTLANDER has given me the opportunity to write the kind of score I have been dreaming about for my entire life," says McCreary. "I am thrilled that Madison Gate Records and Sparks & Shadows have collaborated to release this soundtrack from the first eight episodes, but we're just getting started; more drama and music await!"
The second half of the first season of OUTLANDER returns to STARZ in the U.S. on April 4, 2015. OUTLANDER Original Television Soundtrack, Vol. 1 will be available in digital and CD formats on February 10, 2015.
Track List:
1. People Disappear All The Time
2. Outlander – The Skye Boat Song (feat. Raya Yarbrough) [Castle Leoch version]
3. Dance Of The Druids (feat. Raya Yarbrough)
4. Fallen Through Time
5. Castle Leoch
6. Comin' Thro' The Rye
7. The Woman Of Balnain (feat. Gillebrìde MacMillan)
8. Mrs. Fitz
9. The Losing Side Of History
10. Clean Pease Strae
11. The Marriage Contract
12. The Wedding
13. The Veil Of Time
Running Time: 51 minutes"
Updated 1/15/2015: There is now a new, updated link to pre-order on Amazon.
Source: Amazon, Madison Gate Records