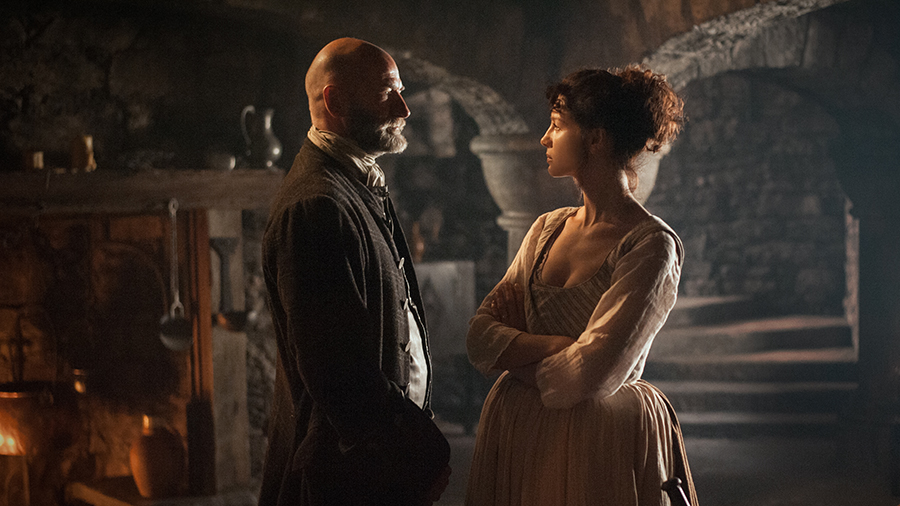 Graham McTavish (Dougal MacKenzie) had a Twitter Q & A today for Canada's Showcase network since Outlander is about to premiere there to our northern cousins.  This is not a complete transcript as only Outlander-relevant Q & A's are included.  For the complete transcript, head on over to Graham's twitter account.
Q: What was more challenging to film, Outlander or The Hobbit or are they equal? You are great in both!
A: I will answer that when I eventually finish on Outlander……
Q: Is that actual wine or is the Rhenish on set just pink fizzy juice?
A: Gary (Lewis) insists it's real.
Q: What do you think about Dougal? Do you like him?
A: He is complicated, but likeable.
Q: When you are not working what do you like to do for fun besides drink Scotch?
A: Cycling, reading history, drawing and more whisky.
Q: What would you like us to know about this Outlander project?
A: Action, adventure, romance, history, time travel and…..KILTS. It's a ride you won't want to miss….
Q: Who would win in a fight, Dwalin or Dougal?
A: They would never fight, they'd just compare weapons….
Q: What has been the toughest challenge to date whilst portraying Dougal?
A: Trying not to laugh while working with Duncan Lacroix!
Q: Have you started reading Dragonfly in Amber yet?
A: I'm saving it for the plane….
Q: How do you 'get in to' Character?. And, subsequently…'out!'
A: I just step back through the stones…..
Q: Is it fun wearing a kilt??
A: It's the best!
Q: Have you had much prior experience with horses? Do you like horses?
A: Many jobs riding, and I have grown to like AND respect them!…
Q: How would you describe Dougal & Jamie's relationship?
A: They are in many ways mirrors of one another. Dougal sees himself in Jamie when was younger, and that makes him very dangerous!
Q: Did a past character you've played influence your take on Dougal? If so, which one?
A: I have known a few Dougals in my time in Scotland, interesting people to hang out with,…
Q: How much, if any, Gaelic did you know before Outlander?
A: I owe it all to Àdhamh Ó Broin.
Q: Did you have to brush up on Jacobite history for the role?
A: I knew a fair amount, it's a period I find very interesting.
Q: You make Dougal so sly but also very likable! What's your fave thing about playing him?
A: Playing complicated characters is always fun. He has many layers which is meat and drink to an actor.
Q: You've just been given a time-traveling DeLorean. Where will you go?
A: 1599, backstage with William Shakespeare….
Q: From Sam Heughan: Who's your favourite Scottish (fake-ginger) actor? And is that really your beard?
A: Underneath that bald exterior lies a flowing mane of Gingerness.
Q: Do you have a family or clan tartan?
A: Yes, McTavish and my Grandmother was a Graham.
Q:  Any acting plans after filming this season of Outlander? Or just R&R?
A: Announcement soon…
Q: What characteristics do you share/differ with Dougal and Geillis?
A: Passion and loyalty
Q: How many episodes have you seen already?
A: Six.
Q: What is the most demanding part of filming Outlander?
A: Getting a Latte up a mountain…
Q: As one of the head MacKenzies, what has been your favorite scene to film?
A: I loved the first scene where Claire meets us for the first time and we are speaking Gaelic.
Q: What have you enjoyed the most at Outlander set?
A: Scotland!
Q: Best thing about being Dougal?
A: Being entrusted with bringing him to life.
Q: If you could take over a job behind the scenes of Outlander, which would it be?
A: Director of Photography, a fascinating job…..
Q: How many times have you tried to kill your nephew Jamie on the set?
A: I've lost count.
Q: Which of your Outlander costars has a hard time keeping a straight face during takes?
A: Cait
Source: Graham McTavish