In a new interview with Entertainment Weekly, Sam Heughan discusses his familiarity with the Outlander series, preparing for the role of Jamie, tweaking his accent, and more. A small portion of the interview is included below. Read the entire interview here.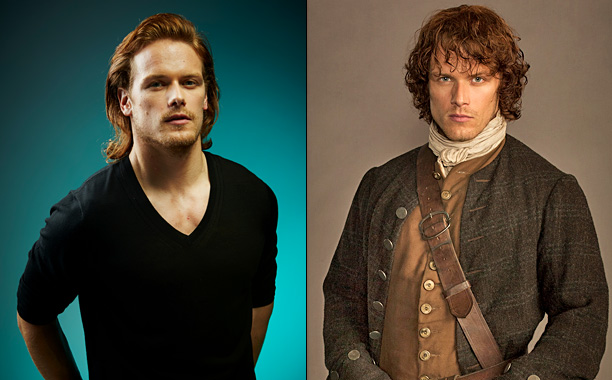 EW: Were you familiar with the Outlander series before you auditioned for the role of Jamie?

SAM HEUGHAN: I hadn't heard of it. Obviously, when I found out that it was a book, I went out and bought the book. I had to audition over a weekend, and they sent me quite a few pages to learn. But I went and read the specific scenes and got a rough idea of who this guy was. And obviously when I got recalled and went in for screen tests, I managed to actually read the book. Having all that source material there is really helpful. It's been great to dip into the book whenever we need to.

You're no stranger to the physical stuff, then, but I imagine you had to do at least a bit of training to get into the physicality and headspace of Jamie.

First of all, they got me a trainer, and he came down to London and we were training two or three times a day for six weeks. Just trying to pack on a bit of weight and a bit of muscle because we decided that he needed to look like he could look after himself. He's a farmer, he's out in the fields, he works a lot. But we didn't want him to look overly muscular or like he'd been in a gym or anything. So it was just about getting more physical because we knew this would be a very physical part.
And then we came up to Scotland, and we had a two week Outlander boot camp where we did a lot of horse riding. We started learning Gaelic for the show, as well. There's a lot of sword fighting—sort of working on Jamie's style, how he fights. And that's kind of, I think, where you start to get an understanding of the character is when you start to see the costumes and work out how he's going to hold himself, the way he walks, and then also where he fits in the clan with the other clan members. So it was a really important couple of weeks where we got to meet the rest of the cast and just sort of see where your character fits in with them.

Do you use a bit of a different accent for Jamie?

Yeah, absolutely. My accent is…sort of an Edinburgh sort of soft southwest Scottish accent. It could almost be English. So we try to do a bit of a Highland lilt to it. Again, in that time period, people were traveling around a lot. Jamie's also been abroad. He's been in France, he's learned Greek, he's learned German, he's learned all these different languages, so he's quite cultured. And we find out in the series, as well, that he's not just a farm boy or an outlaw. You actually find out that he's got a bit of history. He comes from a quite wealthy family, so there's many sides to him.

Obviously an important aspect of all of this for fans is your character's relationship with Claire. Tell me about your first meeting with Caitriona Balfe and how you guys worked on your chemistry.

There'd been a big search for her, and they tested quite a few girls, and there were obviously some wonderful actresses there, but they didn't really feel like they'd found her yet. When Caitriona came in, it was pretty much, "That was it." We just knew straightaway that she was the right one. We just started chatting in the test before we started the audition, and we just seemed to get on. Her humor is fantastic. She's great fun to work with. She's very hardworking, a wonderful actress, very natural. It's been really fun to see where the relationship goes between us. We didn't make any overly complex decisions on our characters' relationship. We just wanted to see where the story has taken us. So far, it's been a real journey.
Source: Entertainment Weekly