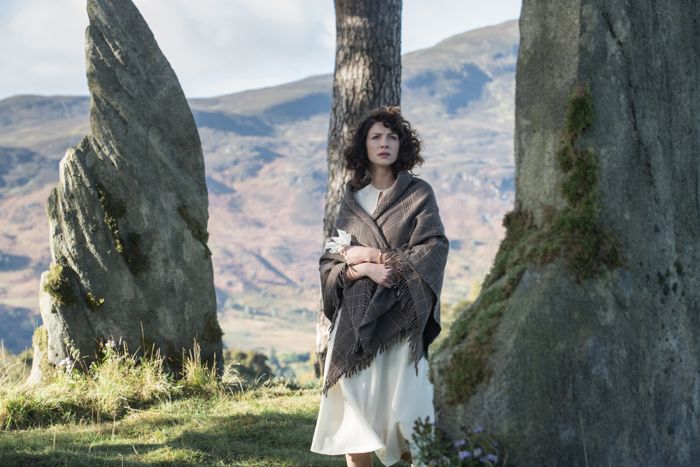 [This is not a spoiler-free review/recap of the episode.  If you have not seen the episode yet, read it at your own spoiler risk.]
Episode 101, "Sassenach," Written by Ronald D. Moore, Directed by John Dahl
"People disappear all the time.  Young girls run away from home.  Children stray from their parents and are never seen again.  Housewives take the grocery money and a taxi to the train station.  Most are found eventually.  Disappearances, after all, have explanations.  Usually."
The adaptation of Outlander has been in the hopes and dreams of the readers of Diana Gabaldon's epic series of novels.  With the arrival of the first episode, we are holding our breaths and hoping that our first glimpse of Ronald D. Moore's Outlander will come close to what has been in our head since we first picked up the novel.
Since this website opened, a lot of time was invested (and still is) on anything and everything Outlander.  I could only hope that the series would turn out to be what it could be, to be that special something that would bring in non-readers and delight readers alike.
Recap:  The episode fades into a large expanse of green and rainy Scottish landscape and Claire's (Caitriona Balfe) voice utters a modified quote from the beginning of the novel.  The adventure begins.  The cold open takes us from Claire in Inverness contemplating a vase purchase to her life during World War II as a nurse.  Our first real look at her personality is her swig from a champagne bottle as VE Day has come.  She continues to tell us that what follows in her life is pain, heartbreak, death, but she would still make the same choice.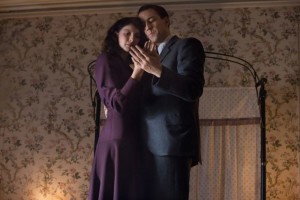 The first forty minutes or so is spent on Claire Beauchamp Randall and her husband Frank Randall(Tobias Menzies) as they spend a second honeymoon in Inverness.  Having been separated by the war for years, this period is about them re-familiarizing themselves with each other and getting their relationship back to what it used to be.  Each has spent the war in some sort of horrible situation, and it is hard to let go of those memories.
Frank has an interest in history, genealogy, and his own family tree, which is why the couple has made Inverness their destination.  They explore an old Castle Leoch and visit with Rev. Wakefield (James Fleet), the local genealogy expert.  There Claire meets Rev. Wakefield's housekeeper, Mrs. Graham (Tracey Wilkinson).  Mrs. Graham reads tea leaves and palms, and her readings for Claire are mysterious and foreboding.
Claire retires early to the bed and breakfast.  A storm is raining down on Frank as he approaches the inn.  He notices someone in Scottish Highlander gear gazing at his wife through the window.  As he stops to ask what he is looking at, the Highlander disappears.
Spurned by rumors of a witches' gathering, Claire and Frank rise early to watch them dance at the standing stones called Craig na Dun as the sun rises.  They notice Mrs. Graham is one of the participants.  After the dance is done and all have left, Claire and Frank go up to the stones to investigate.  Claire notices some flowers she would like to collect, but a reappearance of one of the girls stops her from doing so.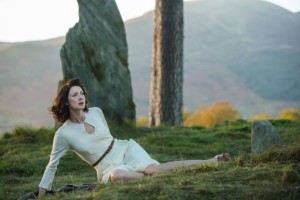 The following morning, Claire ventures back out to Craig na Dun to collect those flowers, but hears a humming coming from one of the stones.  She walks over to investigate the stone, places her hands on it, and essentially disappears from her own time.
Awoken suddenly at Craig na Dun, Claire is confused about where exactly she is when she can't find her car.  She runs into some Redcoats who she thinks may be in some sort of dramatic re-enactment, but realizes they would not use live ammunition.
After running and tripping in various places, she arrives at the bank of a creek to find a man who looks exactly like her husband, but dressed in Redcoat attire.  She soon finds out that he is not Frank, but Jonathan Wolverton Randall aka Black Jack Randall (Tobias Menzies), an ancestor of Frank's.  After an attempt at assaulting her, she is rescued by a Highlander who we later find out is Murtagh (Duncan Lacroix).  After her protests, he knocks her out.
Claire and Murtagh arrive at a cottage where more Highlanders await.  Here Claire meets Dougal (Graham McTavish), Rupert (Grant O'Rourke), Angus (Stephen Walters), and Jamie (Sam Heughan).  Claire speaks up and assists in the repair of Jamie's dislocated shoulder to the amazement of all in the cottage.  She essentially becomes a prisoner of these men, and they take her along on their return home.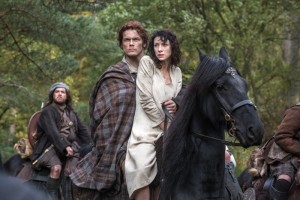 Along the way, they happen upon Cocknammon Rock, a lookout that Frank had mentioned that the English would use for ambushing the Scottish Highlanders.  Claire speaks up about the Rock and while this gives the group an advantage, it increases Dougal's suspicions that she might be an English spy.  During the attack on the men, Jamie gets shot in the same shoulder he dislocated.  While not telling Claire initially that this happened, he falls off the horse later from the blood loss.  Claire fixes him up again and they are on the road again.  They arrive at Castle Leoch just as the episode ends.
Review: "Sassenach" is a great introduction to the world of Outlander without introducing too many characters or settings at once.  Most of the episode is spent in the 1940s with Frank, and it gives us more of Claire and Frank's relationship and their struggles with the war than the novel.  I know most fans were worried we may not meet Jamie in the first episode, but he is there and present for the last third of the episode.
There is also a lot of foreshadowing while Claire is still in the 1940s.  The tea leaves, the palm reading, Cocknammon Rock, old Castle Leoch, Frank's geneaology, and The Duke of Sandringham all are nods to things we will see in the future.
The narration by Claire is something that will take some getting used to.  It is important to the story and how it is told, but narration is not something used often in one hour dramas.
The comic relief of Outlander appears to be Angus, Rupert, and possibly even the gruff Murtagh.  Even things Jamie says and does provide for some good laughs.  The reaction to Claire saying "bloody bastard" and "Jesus H. Roosevelt Christ" is bloody brilliant.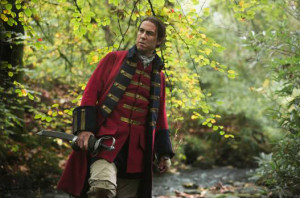 Considering all we have seen are clips and small previews, it is nice to finally see Caitriona Balfe acting as Claire for a long period of time.  She is beautiful, but has the gumption and grit possible to carry Claire through the series.  Her acting does not come off as amateur or un-emotional.  Plainly put, she has "it."
Sam Heughan has the smile and the looks to pull off Jamie, and the determination and roughness to pull off a Scottish Highlander.  Tobias Menzies took on two very different roles, but it is already very apparent that he conveys a likeable Frank and a downright sinister Jack.
My favorite part of the episode is the cold open and the opening credits accompanied by Bear McCreary's score.  I can't not be emotional seeing the setting of the series, Claire's contemplation of her life in a vase, and her walking away from it to what awaits her.  I also enjoyed the Druid dance at Craig na Dun paired again with Bear McCreary's score.   Another standout moment is the last time Frank and Claire see each other.  The moment is slowed down and artfully done.  It is a casual goodbye, but one that lingers, forcing you to remember it.
My answer to the question we have been asking since this television series was announced is a resounding yes.  So far, this looks to be a series that takes the novels to heart and tries to follow the words Diana Gabaldon masterfully wrote over twenty years ago.
Thank you, Ron Moore.  Thank you.
[Spoilers for non-readers below]
What was missing?  The only thing that stood out in my mind was the absence of little Roger MacKenzie.  We know from previews that there will be flashbacks (or flashforwards) to the 1940s, so there is still a chance he might show up this season.