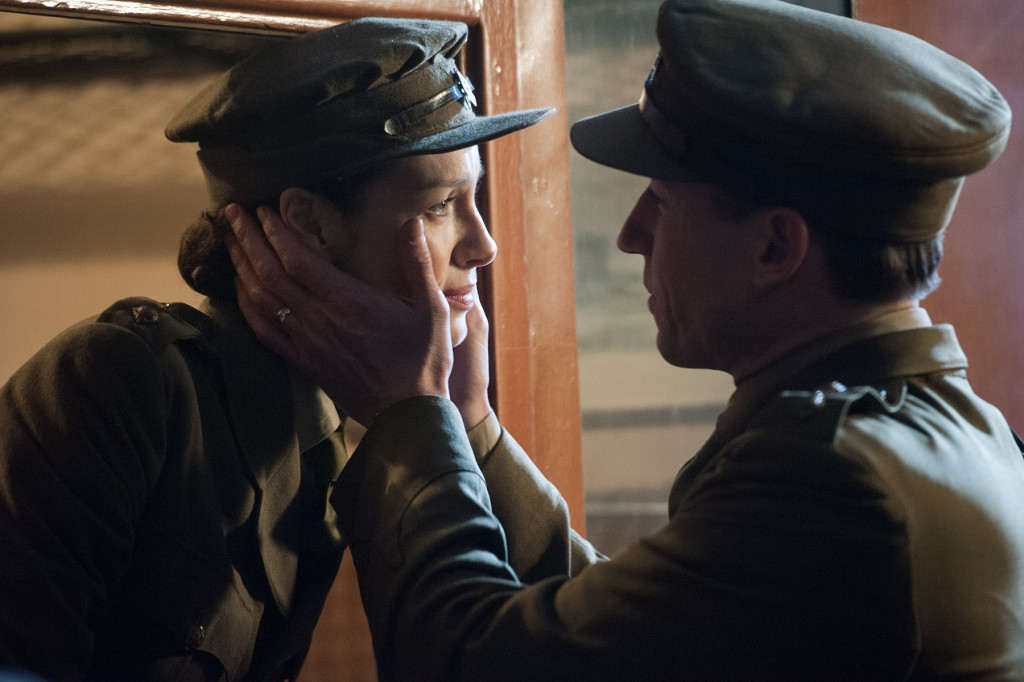 [This is not a spoiler-free review/recap of the episode.  If you have not seen the episode yet, read it at your own spoiler risk.]
Episode 103, "The Way Out," Written by Anne Kenney, Directed by Brian Kelly
Recap:   The episode starts with a flashback to Claire (Caitriona Balfe) and Frank (Tobias Menzies)at a train station during WWII.  Claire is leaving Frank first.  Frank's comment about Claire's stubbornness and their obvious affection for each other continues to build onto the reason Claire wants to go back to her own time.
Flash forward to Castle Leoch, and Claire is getting washed and dressed by Mrs. Fitz (Annette Badland).  In her despair, she confesses to Mrs. Fitz that she has come from the future.  This scares Mrs. Fitz and results in a slap in the face.  Alas, it's only a daydream.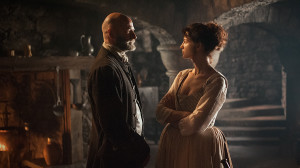 Claire has moved into the Beaton's cellar and is cleaning house and seeing patients.  She still has Angus (Stephen Walters) and Rupert (Grant O'Rourke) hanging around and keeping an eye on her.
The first sign of trouble is the news of boy's death after he visited "The Black Kirk."  It is assumed his death had to do with demons and The Devil.  Claire thinks otherwise.  Colum's page boy and Mrs. Fitz's nephew, Tammas (Daniel Kerr), comes to fetch Claire for Colum (Gary Lewis).
Upon entering Colum's room, Claire witnesses an argument between a tailor and Colum.  The tailor has made his coat too long, probably trying to help Colum hide his deformed legs. Colum takes offense and proceeds to scare the life out of the tailor.  He is a proud man despite his difficulties.  Colum then asks Claire to massage his legs like the last Beaton did.  Claire becomes a bit uncomfortable with a Colum who is now naked from the waist down.  Claire makes the mistake of saying massaging his lower spine would help him more.  Colum raises his shirt to expose his bum, and Claire gets to it.
Because of the relief Claire has given Colum, she is now in his favor and is invited to listen to Gwyllyn the Bard (Gillebride MacMillan) play in The Hall.  Still drinking Colum's Rhenish with flourish, she sits down next to Laoghaire (Nell Husdon).  When Jamie (Sam Heughan) arrives, she leaves space for him to sit between her and Laoghaire.  Claire very much tries to make the Laoghaire/Jamie relationship happen.  Jamie does not get the hint, acting like any other man who just does not get it.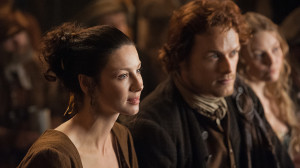 Jamie asks Claire to look at his bandage since it is bothering him.  Claire is rather tipsy as they reach her cellar.  Some flirting occurs and side glances at opportune moments as she checks his wounds.  At this point, even though Claire is a bit drunk, it is apparent there is a spark between them.
Claire meets up with Geillis (Lotte Verbeek) again in the garden.  They talk of exorcisms and demons as Claire learns Mrs. Fitz's nephew, Tammas, is now ill.  Taking it upon herself, Claire visits Tammas to see if she can diagnose him with something real.  She is interrupted by the arrival of Friar Bain (Tim McInnerny), who clearly wants this to be a demon possession.  He is not too friendly to Claire either.  Claire leaves before figuring out what Tammas is stricken with.
Back at the Castle, Claire sees Jamie kissing Laoghaire in an alcove.  Jamie has clearly seen Claire and vice versa.  Claire teases Jamie at dinner that night about the tryst, and Jamie leaves embarrassed.  Murtagh (Duncan Lacroix) is onto Claire and warns her in so many words to not encourage them.  While this has been all fun and games for Claire, the burgeoning relationship between Jamie and Laoghaire reminds her of her husband and her task to get back to him again.  Dougal (Graham McTavish) sees her crying and offers to take her to Geillis' house in the morning.  Dougal is not always kind to Claire, but there are glimpses of a man beyond his duty to his brother.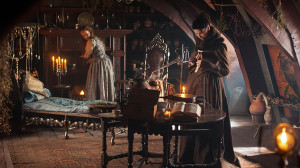 Claire travels to Geillis' house to stock up on medicinal herbs from her well-stocked attic.  It is from the attic that Claire sees a young tanner's lad accused of stealing coming to meet his fate at the Fiscal's house.  The thought that he may lose a hand makes Claire ask Geillis if there is a punishment more lenient for the boy.  The Fiscal (and Geillis' husband) himself, Arthur Duncan (John Simmons), arrives in the attic for some indigestion medicine from Geillis.  There she persuades him to be easy on the boy.  The Fiscal passes a punishment of the lad's ear being nailed to the pillory for one hour.  Friar Bain is there to execute the punishment.  The day carries on, and when it is time to leave Geillis' house, Claire is aghast that the boy is still there.  As Jamie has come to fetch her, she carries out a plan with Jamie to get the boy away from the pillory fast and with a distraction.
Afterwards, Jamie and Claire visit "The Black Kirk" and Claire learns about the area and why boys come here to play and prove their manhood.  It is almost like a "dare" of sorts.  While there, Jamie points out the wood garlic that he has eaten before.  The only problem is that it is lily of the valley and is poisonous.  Claire guesses that Tammas has eaten this plant and made himself ill.  She gives him a treatment, hoping it will work, and it does.  The only problem is that Friar Bain has been cast aside to perform the treatment, and he probably holds a grudge against Claire now.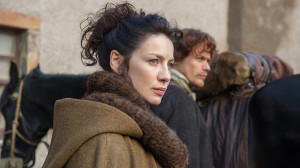 The episode ends in The Hall with Gwyllyn performing.  Claire finds comfort in the Rhenish again and sits next to Jamie.   She is sad, but the translations by Jamie of what Gwyllyn is singing give her hope that she can again return to Frank and she must do it soon.
Review:  "The Way Out" is a very different episode from the first two of Outlander.  Although it is reminiscent of the book, it feels like a story completely separate from the book, but in a good way.  Taking stories from the novel, Anne Kenney (the screenwriter) wove a new take on Claire's settling into Castle Leoch.  Her position as a healer at the castle, her growing relationships with Colum, Jamie, Geillis, Dougal, and Laoghaire, and her run-in with the village's superstitions are all there.  The scene at the pillory and the events at Geillis' house leading up to it are basically the same as the book.  Also, Claire's persuasion and influence on the flirtations between Jamie and Laoghaire are the same.
The major difference would be the supposed demon possession of two boys in the village.  One passes away, and the other is on the cusp of joining him (he is also Mrs. Fitz's nephew and Colum's page boy).  This is a substitution of the story of Claire finding the changeling in the forest.  With this alteration, Friar Bain is introduced earlier in the story.  He also helps with the pillory event.  If you are a non-book reader, DO NOT look up what part he plays in the Outlander book.  It is a major spoiler. On the plus side, our insight into Mrs. Fitz is broadened and she plays more of a role in TV series.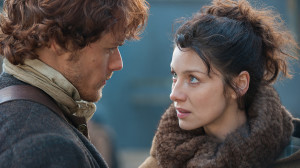 Many fans were worried about the way Mrs. Fitz was being portrayed, especially after seeing the preview for this episode.  It is a reminder that Ronald D. Moore is keeping the fans on their toes, and nothing has been done thus far to get fans riled up.  We still have thirteen episodes to go, but thus far it is apparent that the beloved story is in good hands.  The changes are interesting and give us more insight into the characters.
The use of Angus and Rupert to lighten the mood is becoming a favorite part of the show.  They both never fail to disappoint in the comedy department.
The episode feels like a breath of fresh air on a story so many of us have read over and over again.  It does not feel like a re-interpretation, but an expansion on these chapters of the book.   The ending's emotional climax has given viewers hope that Claire will try to return to Frank, and that will probably be the focus of the next episode.
Outlander, Episode 104, "The Gathering" will premiere on Starz on Saturday, August 30th.