Congratulations to Diana Gabaldon!  The newest Outlander novel Written in My Own Heart's Blood (MOBY) is number one on the New York Times' Best Sellers List for June 29, 2014.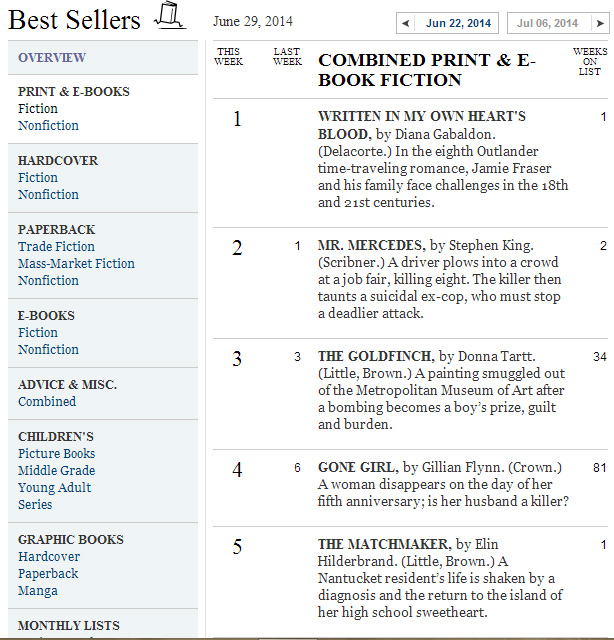 .My editor just called with good news–#MOBY is (or will be, I should say) #1 on the NYT list next week! Thanks, guys–REALLY appreciate it!

— Diana Gabaldon (@Writer_DG) June 18, 2014
The novel also debuted at number one in Canada for Hardcover Fiction on June 21. 2014.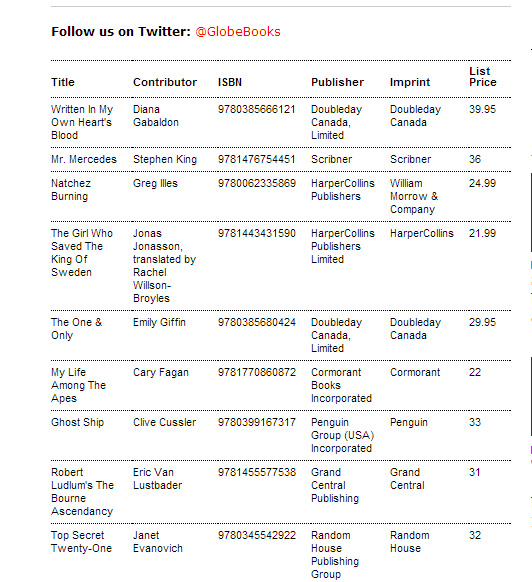 As an aside to this post, there is an upcoming Q & A on Suvudu Universe Diana's editor Jennifer Hershey on June 26th at 4-5 PM EST. You can submit questions and vote on questions you would like to be asked.  Whomever asks the top three question will receive a surprise gift.  Thanks Random House for the heads up!
"Jennifer Hershey is Senior Vice President and Editor in Chief for Ballantine Bantam Dell, as well as Editor at Large for Random House. She has worked with a range of notable authors including George R. R. Martin, Laura Hillenbrand, Jodi Picoult, Emily Giffin, Colum McCann, Curtis Sittenfeld, Debbie Macomber, Janet Evanovich, Kathy Reichs, and Karin Slaughter. She became Diana Gabaldon's editor in 2010 and has worked with her on The Scottish Prisoner and Written in My Own Heart's Blood."
Source: NYT, Globe and Mail, Random House