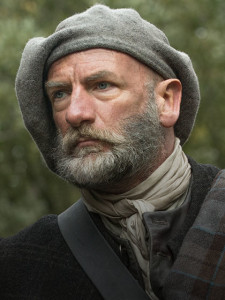 Graham McTavish (Dougal) deviated from the norm of using Twitter and held a Facebook Q & A.  He asked for questions a few days in advance, and then answered them in several Facebook posts on Monday, June 9th.  This Q & A was not limited to Outlander, so head on over to his IMDB page if you don't know all about Mr. McTavish.  The only problem with this session is that he just put people's names and not the questions asked, but from most you can gather the question from his answer.
A: Transforming into an 18th century character is essentially the same whatever the time. The main difference is how fascinating the period is. The Age of Enlightenment, rebellion, the fashions, and a sense of connecting with my own family's past.
A:  Dougal and Dwalin share big sized grumpy pants but high have hidden sensitivities and passions. People they would die for, and causes they believe in.
A: Can't talk about specific Outlander scenes but there have been some great physical scenes so far! Duncan LaCroix is a LOT of fun. I have read the first book, (I don't want to get ahead of myself!), there are a lot of good lattes out there!
A: Diana Rigg was my favourite actress. I had a big crush on her. Pavlova is my favourite pudding.
A: I can't imagine being anything other than Dwalin in The hobbit. When I met him on the page, we just "clicked". Hardest part of my career.? I count myself lucky so I don't complain about anything.
A: I grew up reading Thor and the avengers, so yeah, Thor. But at least I played his evil brother Loki!
A: I wrote three books as a young teenager. Adventure books. I've never tried to get them published but I enjoyed doing them. I'm thinking of writing some children's stories into a collected book.
A: if I wasn't an actor I think I'd just be annoying my workmates doing silly voices or possibly doing something with wildlife. I nearly became an RSPB warden once!
A: I love looking at art, and have always tried to express myself through drawing and painting too. I have no favourite period. I love discovering artists I haven't heard of before, and standing in front of a painting, from any period, that touches me deeply.
A: After I finished Rambo in Thailand, I flew straight to the highlands of Scotland. I needed to reconnect with that landscape after the jungle.
A: 1: too many characters to chose one. Lewis in Rambo was fun, he was a bit of an ass, but he came good in the end. 2: I've loved ALL my characters! 3: I would love to play Macbeth one day.
A: The biggest challenge of the first 2 Hobbit films has been the responsibility to the fans. It's something we all took very seriously. Physically, scene 88 though is WAY up there!!!
A: Dougal is like an onion, and I'm having fun peeling him back layer by layer. he is complicated and contrary, but utterly loyal to those things that matter most to him.
A: The Hobbit was so different because it was immersive. I moved to middle Earth and lived with those guys for 2 and a half years. It was an uniquely bonding experience. Outlander comes with a huge following, and like The Hobbit that means a big responsibility. I'm living doing it.
A:  The most surprising thing about the 18th century s far is a real appreciation of how tough these people were. In ways we can't even imagine!
A: love this question. Dwalin and Dougal share the same tastes in music I think. In the 70s, Led Zep, The clash, The Jam, Abba, Bowie, and Pink Floyd.
A:  I love the fashion of the period. It's great for both men and women I think.
A: Modt roles offer something interesting. It is part of an actors job to find that thing, even if it isn't in the script!
A: So many great things about being back but seeing old friends, and working with some, has been really great.
A: My first acting job was doing my own comedy routines that I wrote with a friend set school. First time I got paid was as an extra in The master of Ballantrae…..
Source: Graham McTavish on Facebook