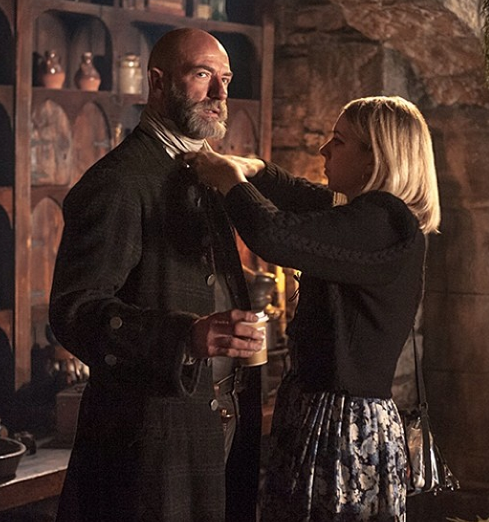 Women's Wear Daily is a very big deal in the fashion industry, and it is great to see Outlander and its costumes featured in an article.  In Rachel Zoe speak, "I die!"  It is great to see some recognition for Terry.
"Costumed by Terry Dresbach Moore, who is married to executive producer Ronald D. Moore, the series aims to stay true to authentic Scottish apparel as well as hairstyles of the era. Asked what her biggest challenge was prepping for her role, Caitriona Balfe, who plays Randall, replied, "Getting my hair permed, because the character had very curly hair. Oh, and the costumes were so heavy, really heavy wool, almost the equivalent of wearing a heavy blanket. Scotland is such a cold, wet place."

Balfe described her costumes for the freshman 16-episode series, which finishes filming its second season in Scotland in August, as ranging from "stylish, comfortable clothes of the Forties to a real pain of being all tied up in unacceptable "corsetry" of the 1700s.""
"The [kilts] had other strategic uses as well. "Kilts were used as a shield wrapped around the arm, and the wool would keep you warm. Even when the wool would get wet, it didn't get you wet," the actor continued. "Highlanders used to soak their tartans in water, and it would freeze on them and act like a protective igloo.""
Read the entire article at WWD.