This past weekend, the Edinburgh Kiltwalk was held, and members of the Outlander cast and crew were in attendance.  The walk raised funds for a number of children's charities.  Here are the tweets and photos from the event.
If you want to donate toward the Outlander team (I Love It When a Clan Comes Together), please click here.  We just donated today!
Richard Finlay took some fabulous photos of the Outlander crew at the event.  Thanks Richard!
Graham McTavish shared this on Facebook:
"Thanks to everyone who donated money for the 45km Edinburgh Kilt Walk. I crossed the line, eating a pain sandwich with my legs no longer talking to me but it was worth it. 3000 pounds raised for the Royal Hospital for Sick Kids. Here we are at the start, Sam Heughan, Grant O'Rourke, Duncan La Croix, Keira Docherty, and Maril Davis. Team Outlander! The donation page is still open if you would like to add to our total. Thankyou."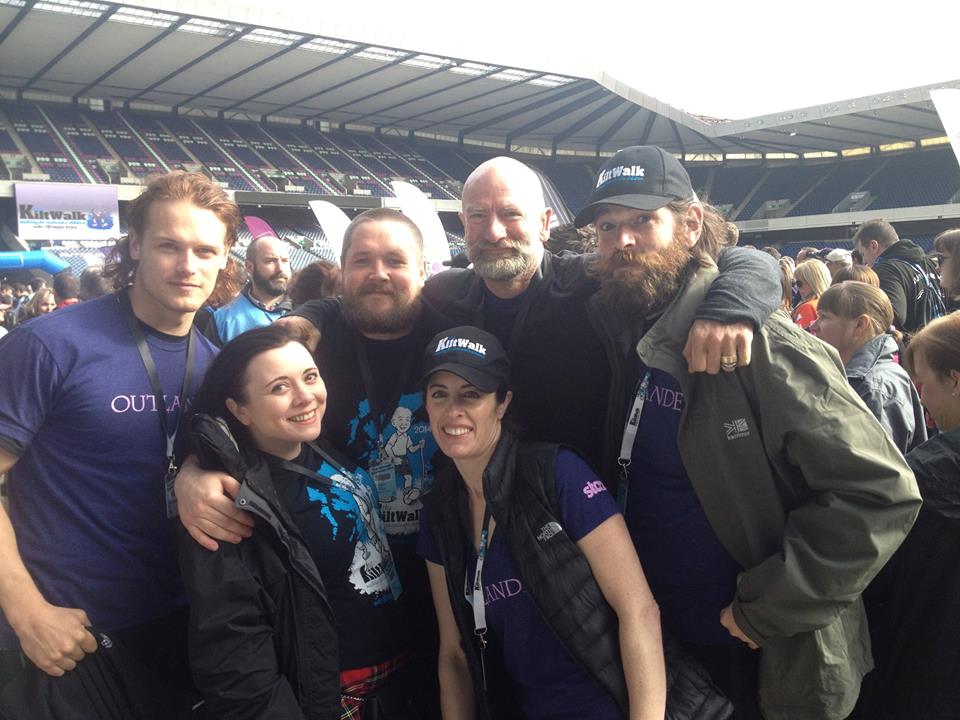 Here I am trying to stare out my reflection. As you can see, my reflection is cowering under my imperious will. pic.twitter.com/W9sFuqIOMW

— Grant O'Rourke (@GrantORourke) May 9, 2014
Just hanging about, waiting for the guys, like a total legend. pic.twitter.com/3BBce6qDA9

— Grant O'Rourke (@GrantORourke) May 11, 2014
Look who's joining us on @thekiltwalk today! pic.twitter.com/yeZzXnAKSA

— Grant O'Rourke (@GrantORourke) May 11, 2014
Quick break by the shore. About 10 miles so far. Thanks for the support so far.x pic.twitter.com/OmVO59qxHU

— Grant O'Rourke (@GrantORourke) May 11, 2014
Stretching out my hammies like a total legend. pic.twitter.com/ZAB4BHp7YS

— Grant O'Rourke (@GrantORourke) May 11, 2014
This tunnel is a great metaphor for the whole day. pic.twitter.com/dSjuoR0dZU

— Grant O'Rourke (@GrantORourke) May 11, 2014
I'm delirious with pain! So is Kiera. .. pic.twitter.com/muaYiKUU93

— Grant O'Rourke (@GrantORourke) May 11, 2014
Coffee and donuts before the last push. pic.twitter.com/jqYxhE9JcS

— Grant O'Rourke (@GrantORourke) May 11, 2014
So we finished about an hour ago. Too tired to take a finish line photo, sorry. It took us 10mins to walk the 50 yards to the cab home.

— Grant O'Rourke (@GrantORourke) May 11, 2014
We're all home in a lot of pain, but happy and so deeply grateful for your generosity and support. Thank you. More to follow, I promise.

— Grant O'Rourke (@GrantORourke) May 11, 2014
Back to work today. I do hope it involves a lot of sitting down.

— Grant O'Rourke (@GrantORourke) May 13, 2014
Here I am with the mighty Murtagh, #DuncanLaCroix crossing the finish line on the 45km @thekiltwalk eating a pain sandwich. #wellworthit

— Graham McTavish (@grahammctavish) May 12, 2014
Ooops, here you go!!! pic.twitter.com/vr0oLQn2Tw

— Graham McTavish (@grahammctavish) May 12, 2014
The morning after @thekiltwalk and my legs are asking me questions I can't answer. Congratulations to all those who finished!

— Graham McTavish (@grahammctavish) May 12, 2014
Pic @thekiltwalk. Congrats to those who finished! @GrantORourke @grahammctavish @Heughan @Outlander_Starz #motleycrew pic.twitter.com/3DkkJ2AiFL

— Maril Davis (@TallShipProds) May 12, 2014
Instagramed hairy men pic.twitter.com/bpBw3zKERS

— Sam Heughan (@Heughan) May 11, 2014
Sad to have to leave @thekiltwalk early (so much work to do!) but #teamOutlander @GrantORourke @grahammctavish @kieradocherty SMASHING IT!

— Sam Heughan (@Heughan) May 11, 2014
..and this one! #actionshot RT @Heughan: Team has hit the coast! @thekiltwalk #teamOutlander pic.twitter.com/GhkQivCUhA

— Kiera Docherty (@kieradocherty) May 11, 2014
We're still going! pic.twitter.com/9gi5cvvgbI

— Kiera Docherty (@kieradocherty) May 11, 2014
Quick kiltwalk pit stop so I can tweet! These #outlander boys are TALL! #longlegs #harderforshortlassestokeepup

— Kiera Docherty (@kieradocherty) May 11, 2014