The day started off pretty great with Sony exec Chris Parnell sharing this photo of the massive Outlander poster on the Sony lot in LA.
Huge poster on the Sony Lot as #Outlander arrives at #LAScreenings!Are you ready for #WorldwideTVNeedsOutlander? pic.twitter.com/Umcud2D1yd

— Chris Parnell (@ChrisFParnell) May 19, 2014
Story Mining Company also shared a photo of a banner on the Sony lot.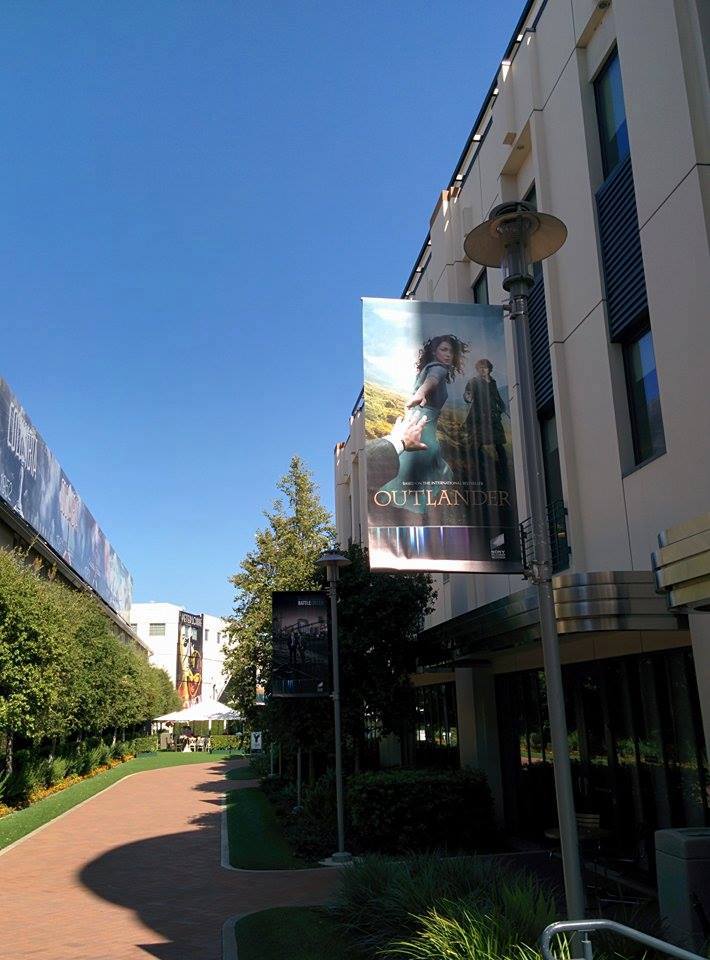 If you have not been on Twitter today, then you probably did not notice the massive amount of tweets with the hashtag #WorldwideTVNeedsOutlander.  It trended in several regions and worldwide.  Diana Gabaldon tweeted some excellent news about the result:
.Hey #WorldwideTVNeedsOutlander ! Your hugely trending tweets were announced in the intro to this afternoon's screening of the 1st episode! — Diana Gabaldon (@Writer_DG) May 20, 2014
@annyelich It was _great_! I hadn't seen the ep with full titles and the real music before (WONDERFUL music by Bear McCreary!). Loved it!

— Diana Gabaldon (@Writer_DG) May 20, 2014
@ParigaLupe In the company of a hundred or so potential purchasers from the Asian Pacific region, yes. <g> — Diana Gabaldon (@Writer_DG) May 20, 2014
So here is what we get from her tweets:
1) Score for opening credits is done. Bear McCreary composes the track as well as music for the series.
2) Opening credits themselves are done. I think I am anxious to see the opening credits more than the first episode as a whole. They can be so iconic like Game of Thrones or Lost (although there is not much to that one).
3) First episode done!
4) They are screening the episode for potential buyers. I remember my conversation with the awesome Robyn Harney who said a lot of places won't buy until they can see an episode. So hopefully this will speed the process along for those countries still waiting.