I know I just posted one of these last night, but a very important photo just landed on the Instagram feed for Outlander.  Behold, one of the scenes from the book and show played out in one photo (except for some crew members in the mix).  The boar hunt turned deadly and Claire was there to help.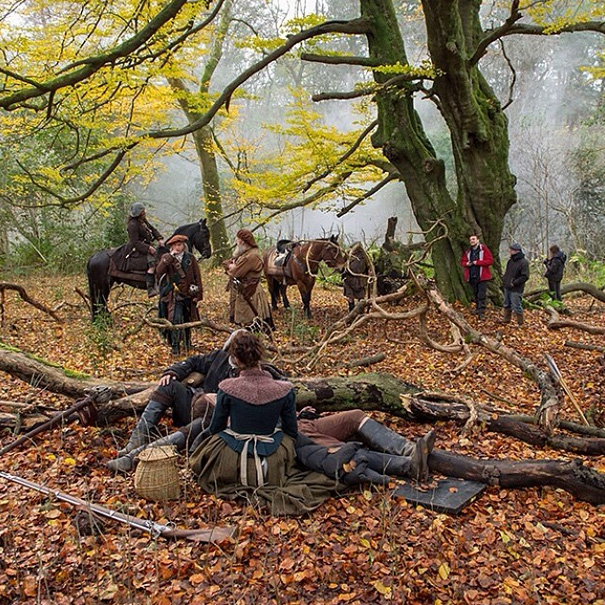 A bunch of Outlander fans got together and sent a massive cake and cupcakes to the cast and crew.
I came out of stage and saw this amazing presentation. Wow @Heughan has some amazing fans @Heughligans #craighnadun pic.twitter.com/WP0aZ6ilZr

— Maril Davis (@TallShipProds) May 16, 2014
Ehhhhh where's Claire?????? #allaboutsam #notfeelingthelove #butgonnaeatitallanyway pic.twitter.com/GqXtPgT3Ul

— Caitriona Balfe (@caitrionambalfe) May 16, 2014
Long week, hard scenes and #OutlanderFans just cheer the whole cast and crew up with some amazing treats from @glamorouscreate !!!! Thank u!

— Sam Heughan (@Heughan) May 16, 2014
CAAAAAAAAAAAAAA—-AAAAAAAKE!!!! pic.twitter.com/XylHtCSzxL

— Sam Heughan (@Heughan) May 16, 2014
#noRestTillCraigNaDunIsFinished pic.twitter.com/h8KNHNnBBb

— Sam Heughan (@Heughan) May 16, 2014
@Heughan Is that an actual cake na duin?

— Grant O'Rourke (@GrantORourke) May 16, 2014
Matt Roberts also tweeted a photo that probably is of one of the Outlander sets.
It's Friday let's go to the "Mall" 1743 highland style #potd @Outlander_Starz #Outlander #august9th pic.twitter.com/tZW4oL0S2W

— Matt Roberts (@TheMattBRoberts) May 16, 2014