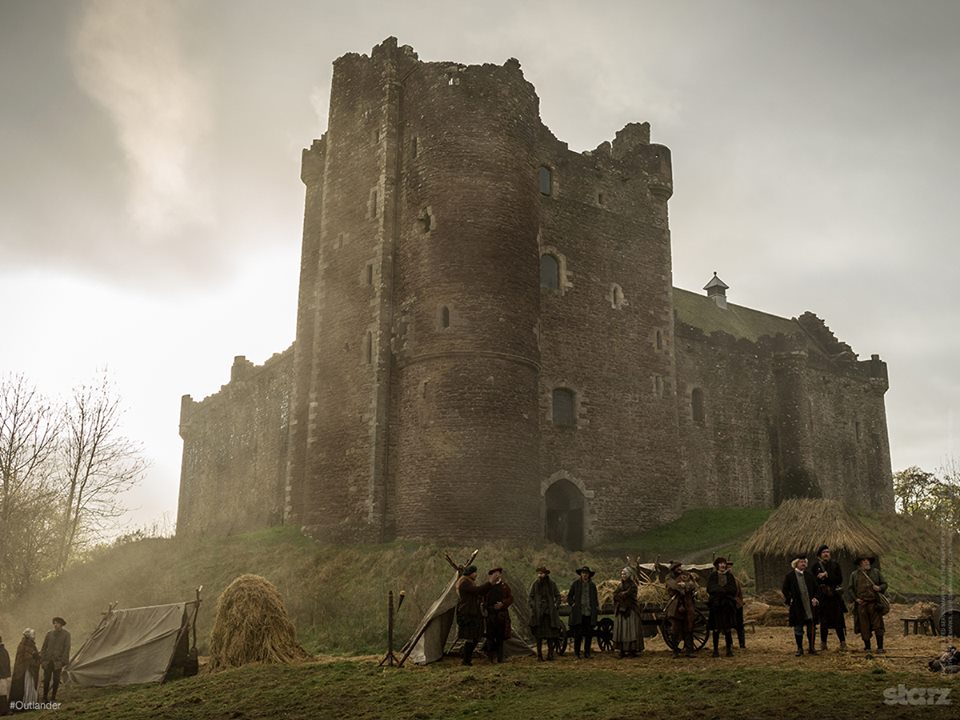 The Scotsman has a new article up that includes the popularity of Doune Castle, which stands in for Castle Leoch.  Also included are new interviews with Sam Heughan and Caitriona Balfe.  Below are some excerpts, but please go to The Scotsman to read the whole article.  There is also a video of some sort, but it would not play on my computer.  There are also a few errors in the article, so do not believe everything you read in it.
"It is already promoting the A-listed monument's starring role in the series at the site, which has been completely transformed at the moment, with its look set to be further altered using special digital effects when the show airs in the US in the summer."
"Actors appearing in the show are being taught to speak Gaelic – but audiences will be kept in the dark over what they are saying when it goes on air."
"But they have ruled out using subtitles in a bid to make viewers sympathetic to the main female character in the plot, which is sent spinning back in time from the Second World War to the early 18th century."
Sam: "The viewer will have that as well as they won't understand what is being said. A really large chunk of the show is in Gaelic and Ron (Moore, Outlander's producer) has said that he doesn't want to use subtitles, so Gaelic can be used as that tool."
Sam:
"I don't think the fans are obsessed with me, they are obsessed with Jamie Fraser, he's such a great character. I didn't really know about the fanbase when I took on the role. But they've been so supportive.
"It feels like we have got on this roller-coaster and have not got off it yet. There is so much in the show – romance, adventure, romance, supernatural stuff, and the whole historic side with the build-up to Culloden.
"It's been great fun, although the whole experience in America was a bit of an eye-opener, but it was great to see the reaction of the fans and the anticipation that's already there."
Caitriona:
"I had no real notion of how big the book series was or how big the fanbase was when I tested for the role with Sam.
"It's been a little bit overwhelming, but nice to know so many people are following it and supporting it already.
"The fan event in LA was just crazy. Nothing at all had been shown at that point. It was incredible to have that many people so enthusiastic and excited when we had only filmed four episodes at that point."