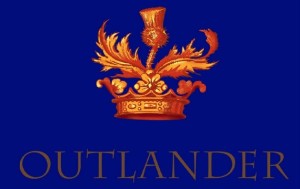 Many fans will no doubt revisit Diana Gabaldon's Outlander before the series premiere on Starz later this year and if you are up for leafing through the pages over the next few weeks, be sure to join in with The Atlantic's Twitter book club. The novel was chosen as the club's February selection through a reader poll and fans are invited to follow along with @1book140 and use the hashtag #1book140 to join in the conversation. Check out all the details below.
From The Atlantic:
Join the Conversation at #1book140
Share favorite quotes, share links, ask questions, and read along at @1book140, our Twitter book club. We're just finishing up The Luminaries by Eleanor Catton. Our hashtag #1book140 is a great place to share about what else you're reading.
To join the conversation on Outlander, follow us at @1book140 and tweet to join the conversation so we know that you're reading along. To avoid spoilers, we spread the conversation across one hashtag per week. Click on each hashtag to see the conversation at that point in the book.
Find out more about The Atlantic's 1book140 book club here.