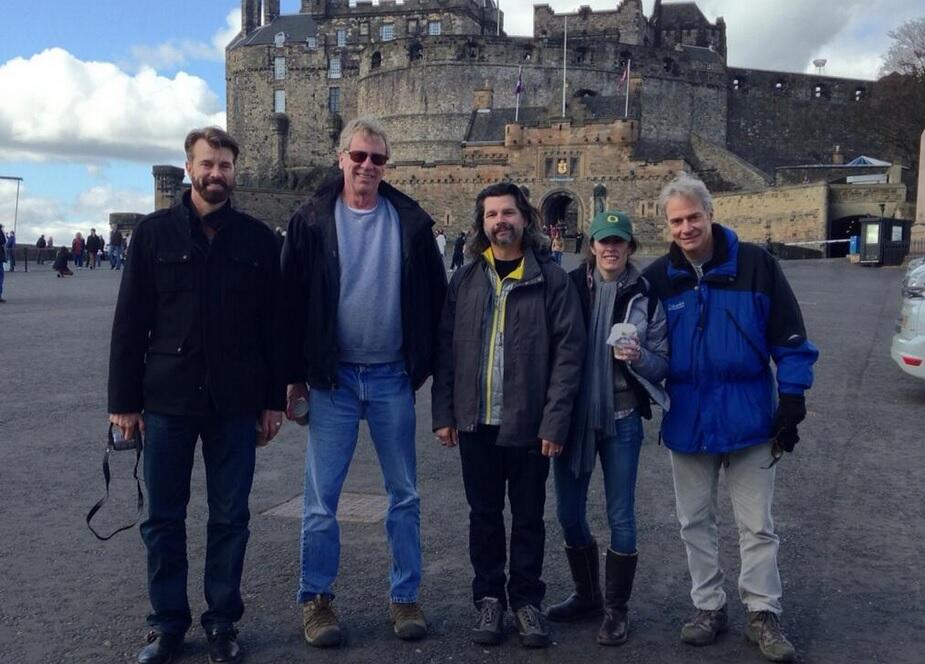 Here are two Q & As with Maril Davis (who tweets under Tall Ship Productions) and Ron Moore.  Like other Q & As that I have transcribed, not all question and answers are included.  With these being done several times, some of the questions are repetitive.  Usernames are left out as well.  To see the full Q & A with both, visit Tall Ship Productions and Ron Moore on Twitter.
Writer/producer Matt Roberts will be doing a Q & A this Sunday at 11 AM Pacific time.
First up is Maril Davis' Q & A:
Q: Is there a new director on set for the next few episodes?
A: Yes, there is. (Could we get a name? 🙂 -S)
Q: Will all the music be original?
A: Not sure yet. Probably not.
Q: Has all location siting for season 1 been completed?
A: Nope. It's an ongoing process.
Q: When will there be a new break? I'm assuming you won't be filming straight until the end.
A: LOL- yes, we are! #noresttilcraighnadun
Q: How many episodes have been written so far? How long does it take to write an episode?
A: We have drafts through episode 11. Five more to go! From start to finish, an episode can take two months to finish writing all drafts.
Q: Has some of the music/score already been chosen and added to the first 4 episodes?
A: Not yet.
Q: Do you have any new actors signed that haven't been announced that you could share the character they are playing?
A: We're close to getting our Ned Gowan!
Q: With no commercial interruptions, how long will each episode be?
A: A little under an hour.
Q: Do all the writers work on the same episode?
A: Nope. Each writer writes his/her own episode.  However, all the writers help break down the episode and figure out what scenes will be included.
Q: Do you have 1 lead writer for each episode or always team, & how do you decide?
A: No, every episode is written by ONE writer. We have five writers. They will all write at least three episodes this season.
Q: Will we see Jamie's parents or will we just hear about them?
A: No plans to see them yet.
Q: Do the writers have meetings where they brainstorm together? How often?
A: Writers meet every day. Talk about all the episodes, break them down into scenes. Writer's room is a lot of fun.
Q: Will the Scottish accents be strong, or are they toning it down for American audiences?
A: We're striving for authenticity in all areas.
Q: Has the dedication and huge numbers of #outlander fans been an unexpected surprise?!
A: No, being a fan myself, I knew what "we" would be like. But, for non fans involved with show, I think it's been an eye opener.
Q: Will you be able to do any fan events in the UK? Big enthusiastic group here!
A: I hope so.
Q: What is the biggest change when changing directors? Does each direct multiple episodes?
A: Each director directs two episodes. It's challenging, but always fun to have a new perspective.
Q: Do you write an episode linearly from beginning to end, or a bit here and a bit there and then build on those bits?
A: That's more a question for the writers. Different writers have different ways of writing. I know Diana writes out of order.
Q: Are any differences in storyline run by Diana first?
A: Not necessarily, but we do send her the scripts and we do like to hear what she thinks.
Q: Will there be differences in what is shown in US/Canada/UK etc due to different networks & censors?
A: I hope not.
Q: But I guess they all have some kind of guidelines, so all episodes have the same "style"?
A: You set a certain style/look with the first episode and subsequent directors follow the lead.
Q: Do you try to work with the same directors on all shows? Knowing how they work and that you like them…
A: Normally we do, but we're using mostly UK directors for this one, so we won't have worked with them before.
Q: How many scenes have required the green screen so far?
A: Only one I think.
Q: Hi, do you know yet what episode Jamie & Claire's wedding will be? 🙂
A: Yes I do, but I'm to sure I'm allowed to say yet. That episode has been written though. #squeee
Q: Does it sadden you when people doubt the cast, esp when you know you've got it so right?
A: I haven't seen that many doubters. casting is very subjective. Ron and I are happy. Diana is happy. That's huge in my book.
Q: Do you and Ron take turns on set or are you both there?
A: Yes, we take turns, but sometimes we're both there. And we always have a writer/producer on set as well.
And now for Ron Moore's Q and A:
Q: Has Ned Gowan been cast?
A: Yes.
Q: What's your greatest challenge been, thus far?
A: Logistics. Very complicated show with a lot of moving parts.
Q: What is one scene in the book that you know you will NOT film?
A: The Waterhorse.
Q: Favorite scene you've filmed so far?
A: Ladies at the standing stones.
Q: Will you be able to portray the journey through the stones?
A: Yep — but not the way you expect.
Q: Are Klingons and Highlanders essentially the same thing?
A: Close…