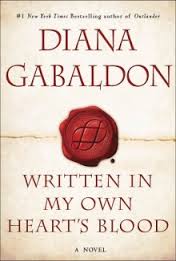 On December 2, Diana Gabaldon announced her upcoming book tour in 2014 in support of Written in My Own Heart's Blood or MOBY.  Below are the dates so far.  As always, check Diana's website and her social media outlets for updates!
I am debating on going to the Dallas event.  Anyone else going?  It is a bit expensive for me, but it does include the book.
Please note that this post was updated on December 18.
"ON TOUR WITH DIANA GABALDON
(US tour dates only. Other countries not yet arranged, but will be touring in Canada and Germany for sure. Information as I get it!)
Tuesday, June 10—ON SALE; PHOENIX, AZ
6:00 pm-10:00 pm
Talk & Signing
Poisoned Pen
Venue: Arizona Biltmore, Gold Room
2400 East Missouri Avenue
Phoenix, AZ 85016
480/947-2974
sales@poisonedpen.com
http://www.poisonedpen.com/
Wednesday, June 11— LOS ANGELES, CA
7:00 pm
Talk & Signing
Vroman's
Venue: All Saints Church
132 N Euclid Ave
Pasadena, CA 91101
626/449-5320
email@vromansbookstore.com
http://www.vromansbookstore.com/
Thursday, June 12— SAN FRANCISCO, CA
7:00 pm
On-Stage Conversation & Signing
Kepler's
Off-site Venue: TK
San Francisco, CA
650/324-4321
orders@keplers.com
http://www.keplers.com/
Friday, June 13— SACRAMENTO, CA
6:00 pm
Talk & Signing
Sacramento Public Library
Tsakopoulos Library Galleria
828 I Street
Sacramento, CA 95814
916/264-2880
http://www.saclibrary.org/
Thursday, June 17— PHILADELPHIA, PA
7:30 pm
Talk, Q&A, Signing
Free Library of Philadelphia
Montgomery Auditorium
1901 Vine St
Philadelphia, PA 19103
215/686-5322
authorevents@freelibrary.org
http://www.freelibrary.org/
Wednesday, June 18— WASHINGTON, DC
6:30 pm-8:00 pm
Talk, Q&A & Signing
National Press Club
529 14th St NW
Washington, DC 20045
202/662-7500
http://www.press.org/events/diana-gabaldon-written-my-own-hearts-blood
Thursday, June 19— NEW YORK, NY
7:00 pm
Talk & Signing
Barnes & Noble Union Square #2675
33 East 17th Street
New York, NY 10003
212/253-0810
http://store-locator.barnesandnoble.com/store/2675
Tuesday, June 24— DALLAS, TX
7:30 pm-9:00 pm
Talk & Signing
Dallas Museum of Art / Arts & Letters Live
Venue: First United Methodist Church of Dallas
1928 Ross Ave
Dallas, TX 75201
214/922-1818
artsandletterslive@dma.org
*Tickets go on sale to this event on December 9th
http://dma.org/Events/ArtsLettersLive/index.htm
Wednesday, June 25— TEMPE, AZ
7:00 pm
Talk & Signing
Changing Hands
6428 S. McClintock Dr.
Tempe, AZ 85283
480/730-0205
http://www.changinghands.com/
Tuesday, July 1— SEATTLE, WA
7:00 pm
Talk & Signing
Third Place Books
17171 Bothell Way NE
Lake Forest Park, WA 98155
206/366-3333
http://www.thirdplacebooks.com/event/written-my-own-hearts-blood-diana-gabaldon-ticket-required
Wednesday, July 2— PORTLAND, OR
7:30 pm
Talk & Signing
Powell's Books
Venue: Newmark Theatre
1111 SW Broadway
Portland, OR 97205
503/248-4335
http://www.portland5.com/newmark-theatre/events/diana-gabaldon"
Source: Diana Gabaldon on Facebook