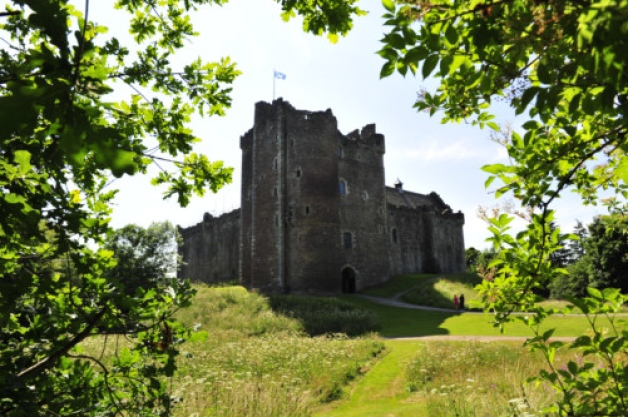 STV News has an article about Doune Castle in Perthshire being used for Outlander.
According to the article, Doune Castle is closed until November 22 and will again be closed sometime February and April 2014.  It also touches on the impact that Outlander will have on the economy, employing a local crew of 200 and a supporting cast of 2400.
This is the same castle that was used for Monty Python and the Holy Grail and for Winterfell in Game of Thrones.
Another article by The Scotsman goes into further detail on the closure.  Writer Brian Ferguson says the shoot will be for 38 weeks total for the whole series, not just at the castle.  He points out that Doune will be used as Leoch, the seat of the MacKenzie clan.
The castle was built in the 1300s by the 1st Duke of Albany, also known as Scotland's uncrowned king.
Want to learn more about Doune Castle?  Check out Wikipedia and Doune Castle's website.  Guess where I am going the next time I am in Scotland?
The below picture was included in the STV article, but is not of Doune Castle.  Can anyone else see THE STONES in it?