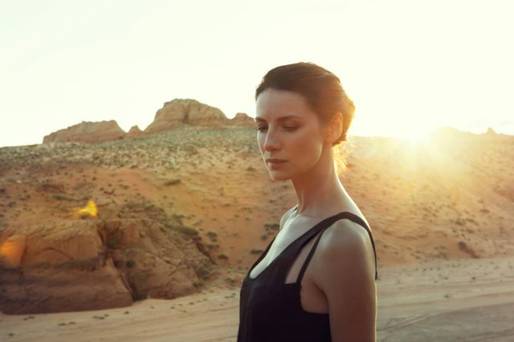 The Irish Independent newspaper has a wonderful article on Caitriona Balfe, detailing her rise to a model and actress, as well as her personal life.  This is the most thorough article thus far on Caitriona since getting the role of Claire.  Below are a few excerpts, but please read the whole article at the Irish Independent website.  The article was published on October 19, 2013.
"The daughter of a Monaghan garda sergeant, only days into her 20s, was a wide-eyed fish out of water, thrown headfirst into a maelstrom of haute couture mere months after being discovered by a model scout while collecting for charity outside Rathmines' Swan Centre in Dublin."
"Officially Ireland's first supermodel, a title she mockingly baulks at – "let's hope it's not on my tombstone" – Balfe was initially intent on acting, studying her craft at Dublin Institute of Technology."
"'The consensus is they only want young ingenues and it's ridiculous to start at this age. That was the voice going around in my head, not that it was ever said outright to me, but that was the feeling there.'
However, Balfe, who grew up in a family of seven in the tiny village of Tydavnet, swiftly charmed the industry with her trademark humour and poise."
"Balfe is currently shooting in Scotland on a big-budget series of Diana Gabaldon's best-selling fantasy romance novels 'Outlander' – where she talks to me from her new flat in Glasgow. She will also hit cinemas this weekend sandwiched between the intimidating powerhouse duo of Arnold Schwarzenegger and Sylvester Stallone in action thriller 'Escape Plan'."
"'I didn't realise how many books had sold and how die-hard the fans were. It's amazing that everyone was so welcoming when I got the job.
'And the story is captivating. It's leading up to the war between the Highlanders and the British Redcoats but seen through the eyes of a modern woman.
'There's so much spectacular action but at the same time, at the centre, is this love story between Claire and Jamie. I can't say too much, but it's incredibly exciting.'"