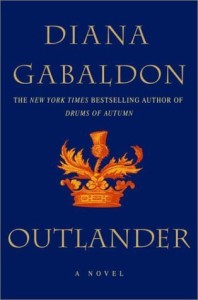 GBM Casting (based in Glasgow) is one of the agencies casting extras for Outlander and here are the details.  If you are living in the area, you might get a chance to participate as the shoot is long (38 weeks) and they will probably need a lot of extras.  The article that featured this information is over a month old, but it could not hurt to still contact them.  Do not contact them if you do not live in the area.  GBM Casting does not have any information on their website about this project.
"Extras are wanted for Outlander, filming in Cumbernauld and the Scottish Central Belt," the GBM Casting spokesperson added. 

"As it is set in 1790's and 1940's Scotland, we are looking for long haired men and women with natural hair (unless it's one natural colour), no tattoos or piercings and of slim build; 1940's male hair shouldn't be too short (short back & sides is the minimum) and naturally coloured, no tattoos. 

"We have an age range of between 16 and 50 year," the spokesperson added. "Any horse riding, cart driving, sword fighting and rifle shooting experience would be a helpful too. 

"If you feel you fit the criteria then please send an email with a recent photo, measurements and skills to info@gbmcasting.co.uk, with the reference "Outlander". GBM will not charge a joining fee for this production."
Thanks to Je Suis Prest for finding this!
Source: Cumbernauld Media